Showdown in Arizona: Voter-suppression hearing gets wild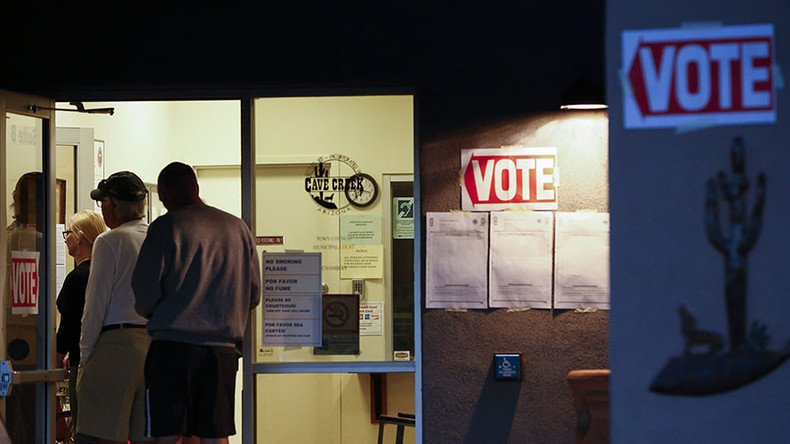 An Arizona legislative hearing addressing last week's chaotic primary elections struck a nerve with citizens who grew so raucous that the lawmakers had to motion for recess and hold the hearing in another room.
Maintaining order proved difficult for chair Michelle Ugenti-Rita, who had to compete with calls for a revote as well as booing every time Maricopa County Recorder Helen Purcell or Arizona Secretary of State Michele Reagan denied responsibility for last Tuesday's calamity of an election.
Arizona State Representative Jonathan Larkin (D-Glendale) called for Purcell's resignation and asked her how voters could get in touch with her after the hearing. Purcell recommended voters go to her website, to which Larkin responded, "And you're ready for the flow this time?"
Larkin attempted to link voting suppression to the passage of State Bill 1516, a debated bill which allows "the transfer of campaign funds from one candidate to another."
Representative J.D. Mesnard (R-Chandler) asked the crowd, "Do you guys even know what 1516 is?" The crowd responded by booing.
Although Mesnard told the crowd that there would be a revote, many of the citizens who spoke at the hearing demanded one.
One of the problems plaguing Arizona's primary election was a ballot shortage, as exemplified in Maricopa County, where budget cuts resulted in a 70 percent drop of polling places, according to Salon.
In addition, independent voters who had attempted to register as Democrats were allegedly told that they hadn't registered at all, disqualifying them from participating in the closed primary. Independents make up a plurality of more than one-third of registered Arizona voters.
Danny Robinson testified in front of the House Elections Committee and spoke on behalf of his daughter in Tucson who spent hours waiting in line to vote.
"They told her she wasn't a Democrat anymore, she was an Independent and she wouldn't be able to vote," he said, adding, "they were telling people standing in line that their vote wasn't going to count and the election had been called. I want justice for my daughter. I want a revote."
The picture that Dean Palmer painted of voting in Glendale, Arizona was equally grim.
"There were people up there, the elderly, in wheelchairs, with canes like myself... They were out of provisional ballots at 7:00am," he said, "Then on came the sprinklers and people in wheelchairs got hosed."
Patrick S. summarized the problem for many people, saying, "You made people choose between voting and keeping their jobs."
A White House petition urging the Obama administration to investigate the situation reached over 100,000 signatures, the minimum necessary to require a response, within two days of its March 22 launch. At the time of writing, it had 208,794 signatures.
You can share this story on social media: