North Carolina attorney general and governor spat over HB2
Published time: 29 Mar, 2016 23:57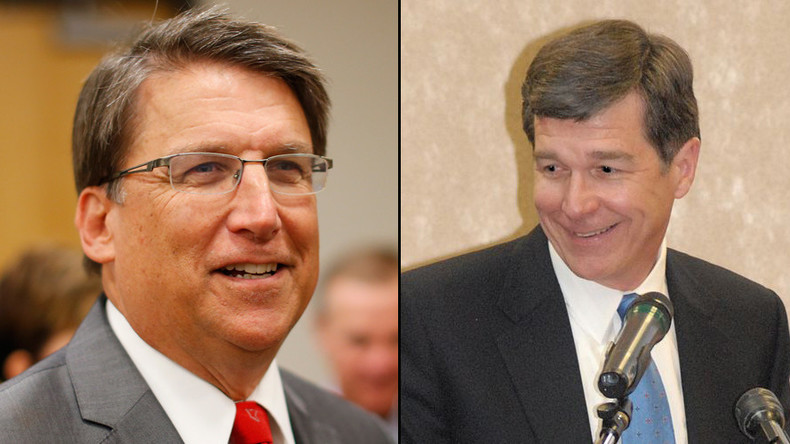 A new North Carolina law criticized as anti-LGBT has proven divisive on a local and national level. The Tar Heel State's attorney general spoke out against the so-called Charlotte bathroom bill, and now many legislators are demanding that he resign.
"We should not even be here today. But we are," is how Attorney General Roy Cooper, who is also the Democratic nominee for governor against incumbent Republican Pat McCrory, began his Tuesday press conference objecting to the newly enacted Public Facilities Privacy and Security Act, better known as House Bill 2 (HB2).
Calling it a "national embarrassment," Cooper threatened that not repealing HB2 could severely damage North Carolina's economy.
By blocking local governments from creating their own rules regarding gender and sexual discrimination as well as employment, wages and public accommodations, the law targets the LGBT community, critics say. HB2 also requires that individuals use public bathrooms and locker rooms that correspond with their biological gender – not the gender with which they may identify.
"The basic expectation of privacy in the most personal of settings, a restroom or locker room, for each gender was violated by government overreach and intrusion by the mayor and city council of Charlotte," Governor McCrory said in a statement. "This new government regulation defies common sense and basic community norms by allowing, for example, a man to use a woman's bathroom, shower or locker room."
However, Cooper pointed out that a section of HB2 has made it impossible for employees to sue their employers in state court over discrimination. As a result, Cooper announced that his office "will not defend the constitutionality of the discrimination in House Bill 2."
As a result of the attorney general's public condemnation of the law, McCrory issued a video statement claiming that Cooper had "promoted conflict to advance [his] political agenda and tear down our state – even if it means defying the Constitution and their oath of office."
McCrory explained that Cooper could not pick and choose which cases to defend, then accused him of using HB2 to promote his own campaign for governor. He is not alone in denouncing Cooper; North Carolina Senator Phil Berger (R-Rockingham) released a statement calling for Cooper's resignation, saying, "Roy Cooper's refusal to defend the law makes clear he wants the ACLU to win by default in federal court what they can't win at the ballot box and allow men to walk into locker rooms at YMCAs across our country and undress in front of young girls," adding, "His zeal for pandering for the extreme left's money and agenda in his race for governor is making it impossible for him to fulfill his duties as attorney general – and he should resign immediately."
However, Cooper's warnings about economic repercussions could already be coming true.
Seattle, San Francisco and New York State have restricted non-essential public-employee travel to North Carolina. On Tuesday, New York Governor Andrew Cuomo signed an executive order preventing taxpayer money from being used for non-essential travel to North Carolina.
North Carolina's tourism industry could also be taking a hit from the new law. The High Point Market, the largest furnishings industry trade show in the world, according to their website, typically brings in 75,000 people to its trade show in North Carolina, but it has already suffered from the backlash. Market officials told the Winston-Salem Journal that dozens of customers have cancelled their plans to attend the mid-April event as a result of HB2.
Market officials released a statement, saying, "As leaders and organizers of the High Point Market, we feel an obligation to inform the public and our government leaders in Raleigh of the significant economic damage that HB 2 is having on the High Point Market and on the North Carolina economy," and predicting, "hundreds, and perhaps thousands, of our customers will not attend market this April."