FBI probing group of Middle Eastern men with guns in California desert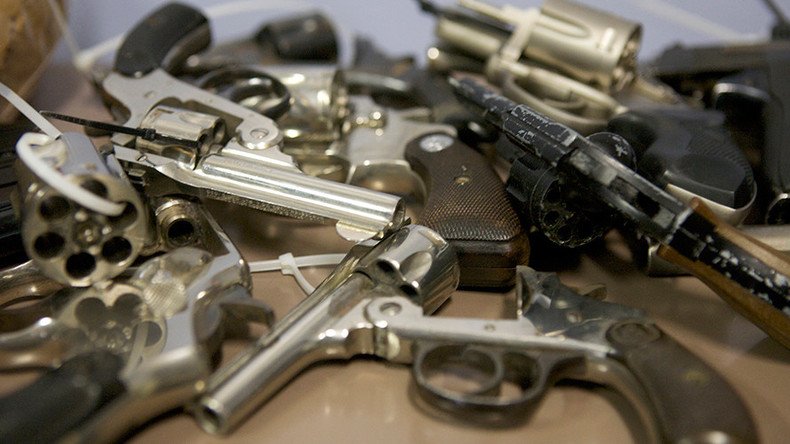 Shots fired in California's Mojave Desert led police to a group of 17 campers, all of Middle Eastern descent. The men were detained and questioned by local police and FBI. No crime was committed, police said, yet the FBI hinted at investigating further.
On Sunday, a 911 call to the Victor Valley Sheriff's Station reported "more than 100 shots" were heard and "5 to 7 subjects wearing turbans were seen" in the area of Deep Creek Hot Springs in the Mojave Desert within San Bernardino County, California. The men were also heard "chanting," according to news reports.
A sheriff's helicopter located the men in a remote area, as they were walking from Deep Creek Hot Springs with backpacks and other items, according to the sheriff's report. Deputies from three other local police units and an FBI agent assisted Victor Valley deputies.
The men were detained and searched, revealing several handguns, a rifle, and shotgun among their items. A photo of the arrests was posted by the Victor Valley News Group, but was not immediately confirmed by law enforcement.
Two photographs purporting to show the men seated on the ground as authorities searched their belongings were posted in a chat forum about Deep Creek Hot Springs.
According to the police report, all guns were properly registered, as were the group's vehicles. The only exception was the rifle, which had been purchased in parts, but the authorities still declared it legal. None of the men had a criminal history or outstanding warrants for their arrest.
"Several" other hikers in the area on Sunday were questioned by authorities, the sheriff's report said, but none of them witnessed gunfire.
"There was no evidence found that a crime had been committed by any of the subjects who were detained and they were released," the sheriff's report says.
On Monday, San Bernardino County Sheriff's Department spokeswoman Jodi Miller said none of the men "interviewed yesterday were identified as terrorists," according to the Los Angeles Times. The men were cooperative with the deputies, Miller said.
However, an FBI spokeswoman said that the Bureau is working with local authorities to investigate if any crimes were committed.
"The FBI was asked to respond to reports of suspicious activity on federal land and we are currently working with local authorities to determine whether a crime occurred," Laura Eimiller told the Victory Valley Daily Press on Monday.
Reports do not indicate whether the men were within the bounds of the San Bernardino National Forest, where Deep Creek Hot Springs is located. Nevertheless, national forests are overseen by the US Forest Service, which does allow firearms in its areas pursuant to state laws and county ordinances.
A man hiking in the Deep Creek Hot Springs area on Sunday told the Daily Press that he witnessed the men firing their guns early that morning.
"I was about 50 feet away from the hot tub and saw them fire about six to eight shots," Dave Stevens said. "I could see them near the hot tubs talking and shooting. I said, 'I'm out of here, these guys are crazy,' and decided to leave. As I started heading up the trail I could see them shooting through the canyons. They were shooting toward the hills where people were camping."
You can share this story on social media: