Cities across US increase security in wake of Brussels attacks
Published time: 22 Mar, 2016 15:05
Edited time: 29 Jul, 2016 13:49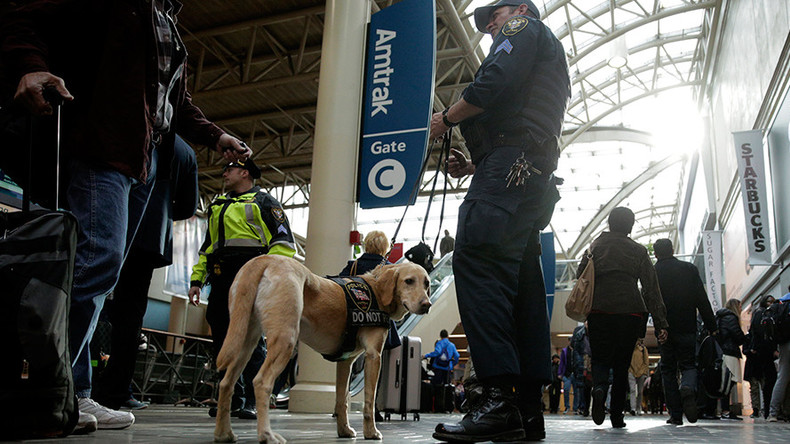 From New York to Los Angeles, cities across the United States are significantly ramping up security in the wake of bombings in Brussels that have left at least 34 people dead and dozens injured.
FOLLOW LIVE UPDATES: Brussels airport and Metro bombings
Just hours after the attacks, which occurred at an airport and metro station in the Belgian capital, the New York Police Department announced it was closely monitoring the situation and deploying additional resources out of an abundance of caution.
"At this time, there is no known indication that the attack has any nexus to New York City," NYPD spokesperson Stephen P. Davis said in a statement. "We will continue to follow the situation in Belgium closely with the Joint Terrorism Task Force and the FBI and adjust the department's deployments accordingly."
More counterterrorism units were deployed in crowded areas and transit locations around New York City, including the Hercules Team unit, which features heavily-armed officers, a K-9 unit and an intelligence officer.
The three major airports located in the New York City area are also seeing an increased security presence by Port Authority police. Anti-terror patrols are being deployed to the World Trade Center site and the PATH Train, which shuttles people between New York and New Jersey, Fox News reported.
In Washington, DC, Metro Transit Police stated that K-9 sweeps and officer patrols would begin throughout the system Tuesday morning.
There are plans for a "major show of police force" at Reagan National Airport and Dulles International Airport, which are set to include K-9 units, SWAT teams and more, CNN reported.
Similarly, police presence at airports and public transportation sites in Chicago will be boosted, police said. In a statement, Chicago police said there was no known terror threat to the city in connection with the Brussels attacks, but that units have been deployed to protect people and critical infrastructure.
"Due to the incidents this morning, we have increased our security posture (uniform and non-uniform) at the airports, public transportation systems and other high profile locations," the statement reads.
Meanwhile, authorities in Los Angeles have also increased their presence. Metro stations will see bomb-sniffing dogs deployed as well as additional manpower. Officers were seen patrolling at Los Angeles International Airport with automatic rifles.
However, airport police officer Alicia Hernandez stated that there is no known threat to the facility.
"We take attacks on aviation very seriously and make constant adjustments to our deployment strategies," she said, as quoted by the Los Angeles Times. "As a precaution, we have increased the visibility of airport police officers at LAX."
At this time, President Barack Obama, currently in Cuba, has been briefed on the situation in Brussels and is expected to comment on the attacks during a televised speech. At the Justice Department, Attorney General Loretta Lynch is working with the FBI and other agencies to respond, as well as authorities in Brussels.