Flight attendant ditches 70lbs of cocaine, Gucci shoes to avoid TSA search
Published time: 22 Mar, 2016 14:55
Edited time: 22 Mar, 2016 14:56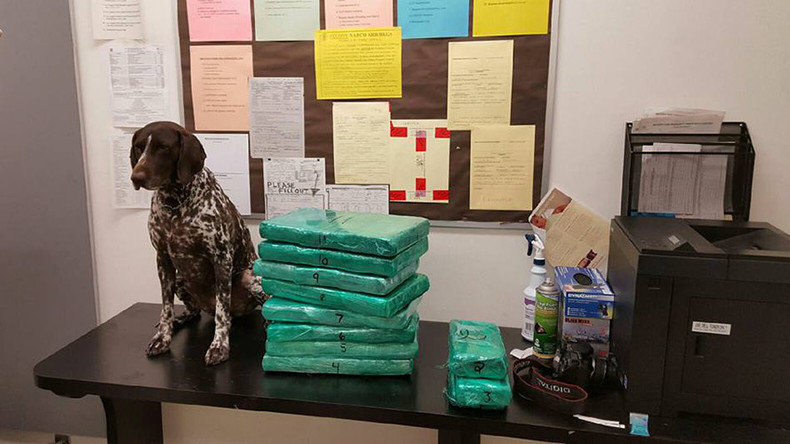 A flight attendant kicked off her high-heels, leaving behind luggage containing condoms, Gucci shoes and nearly 70 pounds of cocaine, to run from TSA agents during a random search. Despite seeing her photo ID, agents couldn't provide her name to police.
Now under investigation by the Los Angeles Police Department, Los Angeles Airport Police, and the US Drug Enforcement Administration, the incident, which occurred at Los Angeles International Airport's Terminal 4 on Friday night, remains a mystery for everyone else.
While flight crew members normally travel unscreened, the female flight attendant became nervous when a random search was ordered, so she made a call on her cell phone, speaking in a language other than English or Spanish, LAPD sources told the New York Post.
Then she was directed over to secondary screening, an adjacent area where she was asked for her work ID, which TSA agents acknowledge she presented. But what happened next was anything but cooperative as she gave chase, running down an up-traveling escalator, leaving behind her decadent belongings, including bags full of condoms, Gucci shoes and drugs worth approximately $2 million.
"She was then able to high-foot it out of the terminal, down an up escalator while barefoot, where we assume she got into a car and took off to parts unknown," Marshall McClain, of the Los Angeles Airport Peace Officers Association, told the NY Post.
"This is a big security failure as far as I'm concerned," McClain added.
Security camera footage has not yet been released.
The airline employee was heading to LaGuardia Airport, KNBC reported. The 68.49 pounds of cocaine were wrapped in green plastic and labeled "BIG Ranch," according to the NY Post.
The nameless woman faces felony drug charges, DEA spokesman Timothy Massino said.