Apple-FBI encryption tensions spiked upon iOS 8 reveal in 2014 - report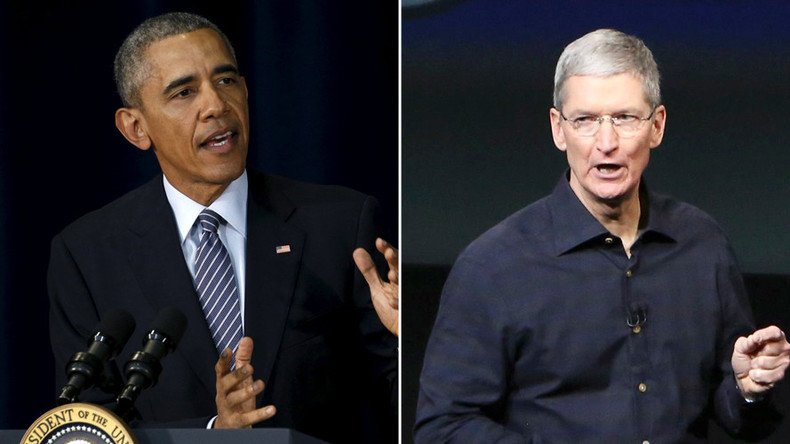 The fight between Apple and the FBI over access to iPhone communications escalated when Apple introduced iOS 8 in 2014. New security features "stunned" the FBI, a new report says. On Tuesday, the two sides will argue the issue in court.
Last month, a US magistrate judge ordered Apple Inc. to give "reasonable technical assistance" to the FBI in its pursuit of the iPhone communications of Syed Farook, one of two shooters in the San Bernardino massacre in December. The agency has called for a specially-made "key" that would bypass encryption on Farook's phone. Apple has refused to comply, saying the request would set a "dangerous" precedent for digital privacy, and that such a key "could be used over and over again, on any number of devices."
Apple and the US Department of Justice are set to argue their case in front of a federal court on March 22.
Yet the FBI's desire for access to iPhones goes back at least as far as 2014, when the Cupertino, California-based company introduced iOS 8, its latest operating system for mobile devices. The new system came with features that would prevent law enforcement investigators, hackers and even Apple from bypassing encryption. With iOS 8, photos, text messages and other communications stored on iPhones were now out of reach without a password.
Not long after the iOS 8 introduction, Apple offered the FBI access in order to study the operating system's features. The company's top lawyer, Bruce Sewell, was sent to Washington to preview iOS8 for then-Attorney General Eric Holder and other administration officials.
According to a new Bloomberg report, "many in the FBI were stunned" upon learning that techniques the agency had long used on Apple smartphones during criminal investigations would not work on the new operating system.
This created a rift between Apple ‒ who has been backed by many high-profile Silicon Valley tech companies ‒ and the Obama administration, Bloomberg reported. Even prior to 2014, the FBI chafed over Apple's encryption protection of user privacy after the company introduced beefed-up security on its FaceTime app in 2010. But the fight between Apple and federal law enforcement only spilled out into the open following the San Bernardino mass shooting.
Following the iOS 8 introduction, Apple worked with the Obama administration to convince China to back off its push for anti-encryption policies directed at smartphone companies doing business there, Bloomberg reported. The Chinese government had called for a master key, essentially, that would unlock any smartphone's encryption features.
China eventually dropped its pursuit of weakened encryption. In the process, Apple officials came to the conclusion that the White House was in its corner about encryption integrity. Ultimately, however, the Obama administration had come to no definitive conclusions about encryption as it applied to US law enforcement.
Meanwhile, researchers at Johns Hopkins University found a way to break Apple's encryption in devices that used iMessage in operating systems introduced prior to 2011, the Washington Post reported.
Google, Facebook, Snapchat, Amazon, Microsoft and Twitter have all filed legal briefs in support of Apple's position in its case with the FBI. Other tech companies, including LinkedIn and Reddit, offered a separate court filing in support of Apple, saying that an undermining of iPhone security "threatens the core principles of privacy, security, and transparency that underlie the fabric of the Internet."
While these top tech companies have supported Apple in its fight with the FBI, they parted ways in a separate case involving design patents. It was announced on Monday that the US Supreme Court has agreed to hear an appeal from Samsung over the Korean company's infringement of aspects of the iPhone design. In December, Samsung ‒ supported in legal briefs by the likes of Google and Facebook ‒ agreed to pay Apple more than $500 million in damages.
You can share this story on social media: