February 2016 was most abnormally warm month on record
Published time: 19 Mar, 2016 02:59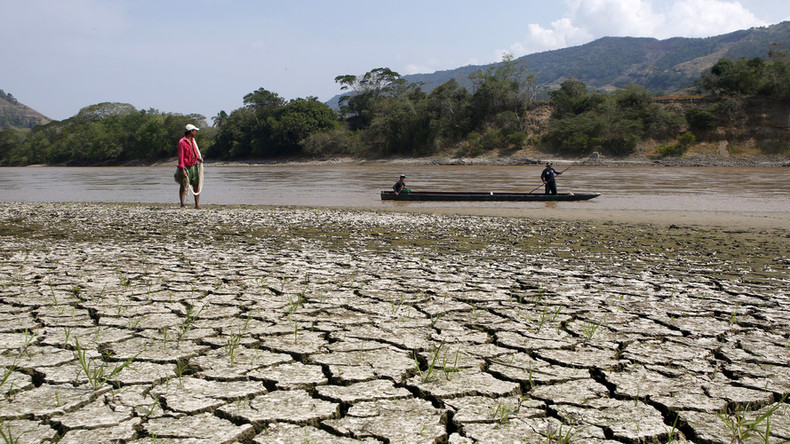 Things seem to be warming up on planet Earth. Last month, global temperatures were the most abnormally warm on record for any month, according to both NASA and the National Oceanic and Atmospheric Administration.
On Thursday, the National Oceanic and Atmospheric Administration (NOAA) released their global State of the Climate report. It claims that the Earth's surface was about 34.18 degrees Fahrenheit, or 1.21 degrees Celsius, above the 20th century average in February.
"This not only was the highest for February in the 1880-2016 record – surpassing the previous record set in 2015 by 0.33 degrees Celsius / 0.59 degrees Fahrenheit – but it surpassed the all-time monthly record set just two months ago in December 2015 by 0.09 degrees Celsius (0.16 degrees Fahrenheit)," the NOAA report read.
Even more alarming, the study also found that the six highest monthly temperatures on record have all occurred in the past six months. In the US, for example, Alaska reported its warmest February in its 92-year period of record. Alaska's February was 12.4 degrees Fahrenheit, or 6.9 degrees Celsius, higher than the 20th century average. According to NASA, nine out of the 10 warmest years on record have occurred since 2000.
While temperatures steadily increase, sea ice is steadily decreasing. NASA reported that arctic sea ice was at a satellite-record low for the second month in a row. Typically, arctic sea ice grows during the winter months and reaches its maximum extent for the year by late March.
From 1981 to 2010, the average arctic sea ice growth in February was measured to be 5.94 million square miles (15.4 million square kilometers). However, the ice growth for February 2016 averaged to be 5.48 million square millions (14.22 million square kilometers), "and is 200,000 square kilometers (77,000 square miles) below the previous record low for the month recorded in 2005."
Some are blaming the heat on the weather pattern known as El Niño. El Niño brings warmer ocean temperatures to the Pacific Ocean which then circulates to warm the planet. But El Niño cannot take the blame for the increase in temperature, since it primarily affects tropical and mid-latitude regions, while even far northern latitudes were experiencing their warmest temperatures, according to CNN.
Scientists believe that much of the increases in temperature can be blamed on man-made issues. Imperial College London climate scientist Heather Graven told CNN, "We know that atmospheric CO2 and other greenhouse gases are continuing to increase, so that's contributing to climate change and the rising temperatures overall."