Disabled people account for 1 in 3 of all excessive force claims against police – study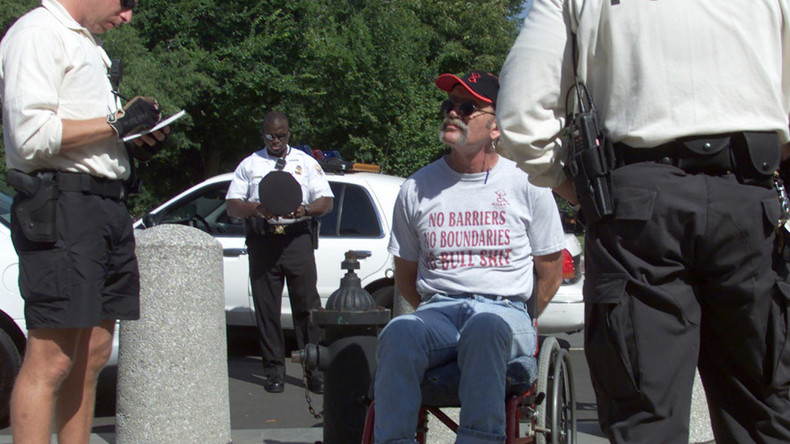 A new study has found that at least one third of all victims of police killings are people with disabilities. The researchers hope a closer look at the issue will change the conversation about police violence.
The statistics regarding police abuse of the disabled by police are not easy to come by. In its new study, the Ruderman Foundation found that "there is no legal requirement for local, state or federal law enforcement agencies to aggregate or collect the number, type, and result of violent incidents that occur between police officers and disabled people."
However, by compiling media coverage of cases involving disabled individuals, they managed to find 378 cases involving abuse or mistreatment by police between 2013 and 2015. The disabilities range from documented mental illnesses to physical disabilities.
These numbers were confirmed by the Los Angeles Police Department which found that over one third of the people shot by LAPD had documented signs of mental illness.
The Los Angeles Police Department (LAPD) has recognized that this is an issue for their force as well. A report from the LAPD found that out of the 38 people shot by police in 2015, 14 of them had documented signs of mental illness. The issue persists in less serious cases as well. In 2015, roughly a quarter of the nearly 1,900 less-serious uses of force were used against someone believed to be mentally ill and under the influence of drugs and alcohol.
LAPD Chief Charlie Beck hopes that these findings can help the department turn a corner.
"We're more than willing to look ourselves in the mirror and say, 'What's occurring and how can we do better?'" Chief Beck told The Los Angeles Times.
According to the Ruderman Foundation's study, one in 10 of all police interactions involve people suffering from mental illness, but even in highly publicized cases of police brutality, disability or mental illness factors can be involved without it being commonly known.
Some are calling for police departments to improve training for handling situations involving the mentally ill and disabled.
While the trial against the Baltimore police officers involved in the death of Freddie Gray goes to court, the Ruderman Foundation believes that one fact seems to be under reported: Freddie Gray suffered from lead poisoning. He testified in a 2008 lawsuit against the property owner of the West Baltimore house he grew up in. Lead poisoning is known to cause brain damage.
The Foundation also found that the media failed to report that Sandra Bland, the woman arrested by a Texas state trooper after she refused to put out her cigarette during a traffic stop, was not only depressed, but also epileptic. Bland's jail cell suicide made headlines, but less-reported was the fact she stopped receiving her epilepsy treatment, Keppra, while in jail. According to the FDA, sudden withdrawal from Keppra can cause "suicidal thoughts."
In another case, Lisa Hayes, a quadriplegic woman with cerebral palsy, was in her house during a drug raid that targeted her nephews. According to her lawsuit, police "leveled their assault rifles at Mrs. Hayes, who was lying on the bed naked from the waist down, and shouted, 'This is a raid! Get the [expletive] up!' Mrs. Hayes replied, 'I can't get up!'"
Ruther Hayes, Lisa's husband, a disabled veteran, also claimed mistreatment during the raid. The lawsuit alleged that Ruther attempted to cover his partially naked wife with a sheet but police "grabbed Mr. Hayes' arms and held him in place... [and] began to punch him repeatedly," Delaware Online reports.
There is no easy fix to police brutality, much less police brutality against the disabled. However, Los Angeles Police Captain John McMahon has hope, saying his "department won't rest until we get that number to zero. That's the only number that is acceptable to us."
You can share this story on social media: