'Far too many victims of police violence are disabled'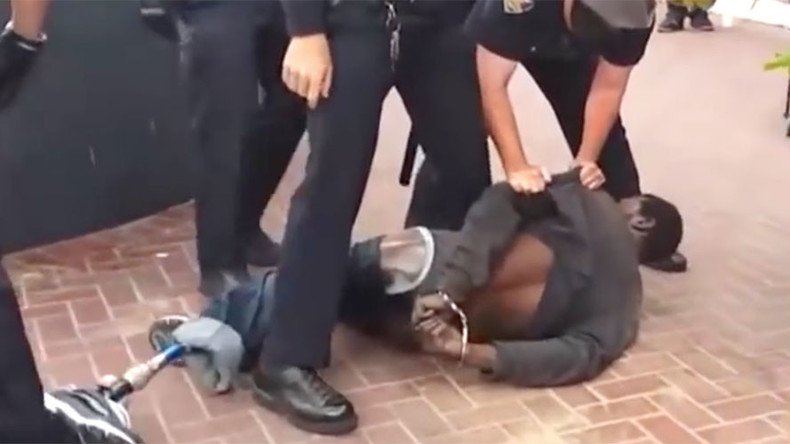 There are many reasons why up to half the people killed by US police had some kind of disability, but the main one is an expectation of immediate compliance, which such people cannot reasonably meet, says disability rights journalist David M. Perry.
A report by the Ruderman Family foundation says officers lack training in handling mentally disabled people, following a number of high-profile cases that ended in tragedy.
While most of the media coverage focuses on racism, the report says disabled people falling prey to police is overlooked. In addition, mental illness is often used to blame the victims for their deaths.
RT spoke with disability rights journalist David M. Perry co-author of the report.
RT: Could you please outline the findings of the report?
David M. Perry: We did two things. One, we wanted to make it very clear, that a third to a half of all people killed by American police are disabled, and not just mentally disabled, but disabled in many different ways, including bipolar disorder, schizophrenia, autism, down syndrome, wheelchair users, people with asthma…We found out that far too many victims of police violence are disabled. The second finding is that the media – both the American media, but also more broadly, even people, who are very interested in police use of force are not really aware of the disability components of this big pattern. So we wanted to talk about how we might better cover those stories.
RT:Why do so many people with disabilities become targets of police brutality?
DMP: There are a number of different reasons. Some of them involve lack of access to care. But the big issue for me is that police are trained to seize control of situations. Sometimes we call it "ask, tell, make," in which you ask someone to do something and if they don't immediately comply, you tell them to do it. And if they still not comply, you make them do it. And this assumes that people are fully able to obey police commands immediately.
We talk about the story, for example, of John Williams, a deaf man walking down the street in Seattle. He was a wood carver; he was carrying a very small legal knife and a block of wood. He gets ordered by a police officer from behind to drop the knife and he doesn't do it. So then he got shot.
We have other cases of an autistic individual who was told to stop and to allow a police officer to touch him, to search him, even though there was, in fact, no real threat, or real evidence of threat from the autistic individual who reacts violently to being searched, because he doesn't want a stranger to touch his body…
There are lots of different reasons in any individual case. But over all, it is this expectation of immediate compliance, an expectation that disabled people usually cannot reasonably meet.
RT: Could force ever be justified if a mentally ill person is behaving erratically and violently? What needs to be changed?
DMP: Violent threats –if someone has a firearm and is threatening another people with it, the police have to respond to that as a threat, and it does unfortunately happen. When we see it in a case of mental disability, I like to try to look upstream of the event, and not to look just at the moment in which the disabled individual acted violently, but look at all of the way in which that disabled individual was not provided with adequate supports or inclusive efforts – that is one of the things about the Ruderman Family Foundation – is that they work very hard on building a more inclusive society, which I think could help us avoid these kinds of issues.
What I see though – is police taking erratic behavior, whether it is because of a mental health crisis, or because they just see someone who act a little bit differently…and they respond to that as if erratic behavior or non-compliant behavior on its own is a threat. And that is what needs to change.
RT: Why do you think this topic is neglected by the media, compared to police brutality towards the black community?
DMP: I think it is often hard to see the ways that different forms of marginalization intersect. So that someone who is both Black and disabled is likely to be more vulnerable than someone who is Black and not disabled. It doesn't mean we shouldn't talk about racism. Racism in America – both individual racism and structural racism - are major societal problems that lead to police violence. But disability is part of it. It is not a coincidence that so many of these victims, whose names we've heard over the last year or two, turned out to be disabled, and often people of color. That is not a coincidence, and we need to look at the picture…
The statements, views and opinions expressed in this column are solely those of the author and do not necessarily represent those of RT.
You can share this story on social media: