Last man on Fox: GOP debate cancelled after Trump, Kasich pull out
Published time: 16 Mar, 2016 20:55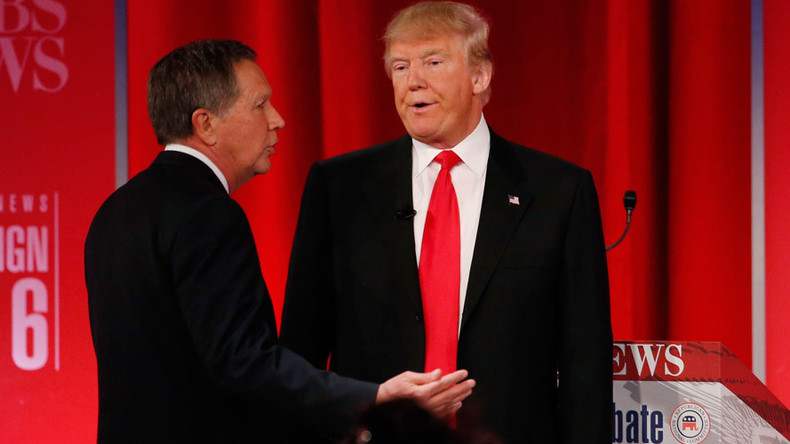 Fox News announced that it has canceled the final GOP debate, which it was set to host in Salt Lake City, Utah on Monday. Donald Trump told the network today that he would not participate, which prompted John Kasich to also withdraw.
The debate would clash with a "very important speech" he is due to give, Trump told 'Fox and Friends'. The Republican front-runner is set to speak to the annual conference of the pro-Israel lobby group American Israel Public Affairs Committee (AIPAC), an event he said "was scheduled a week ago."
"I was very surprised when I heard that Fox called for a debate. Nobody told me about it and I won't be there," Trump said in a live telephone conversation on air, adding that he thinks the party has had enough debates.
Dan Senor, who served as an adviser to Florida Senator Marco Rubio, said that Trump could have attended the debate because AIPAC offered him a choice of multiple slots over two days. Rubio dropped out of the race Tuesday, after losing his home state of Florida to Trump in the primaries.
All candidates were invited to speak at the AIPAC conference, which will be held in Washington DC from March 20 to 22. Only Trump and Democratic presidential hopeful Hillary Clinton accepted.
Trump has been involved in an ongoing feud with Fox pundit Megyn Kelly since January, when the network hosted its first GOP debate. During that event, Kelly questioned Trump over remarks he made about women. The Republican frontrunner then skipped a Fox-moderated debate in Des Moines, Iowa later that month. Trump admitted his absence may have been a factor in his second-place finish in the state's first-in-the-nation caucuses.
Earlier this month, Trump did take part in a Fox-hosted debate in Detroit, Michigan that Kelly moderated. He avoided confrontation but has continued to make comments about her online.
Watching other networks and local news. Really good night! Crazy @megynkelly is unwatchable.

— Donald J. Trump (@realDonaldTrump) March 16, 2016
After Trump's withdrew from Monday's debate, Ohio Governor John Kasich also declined to attend.
"We had hoped to contrast Governor Kasich's positive inclusive approach to problem solving with Trump's campaign of division," a spokesperson said in a statement.
With only Texas Senator Ted Cruz left on stage, Fox opted to cancel the debate. Monday's event was to be the final such event for the Republican Party during the primary season.