Trumpless in Des Moines: GOP debate focused on… issues (oh, and Trump)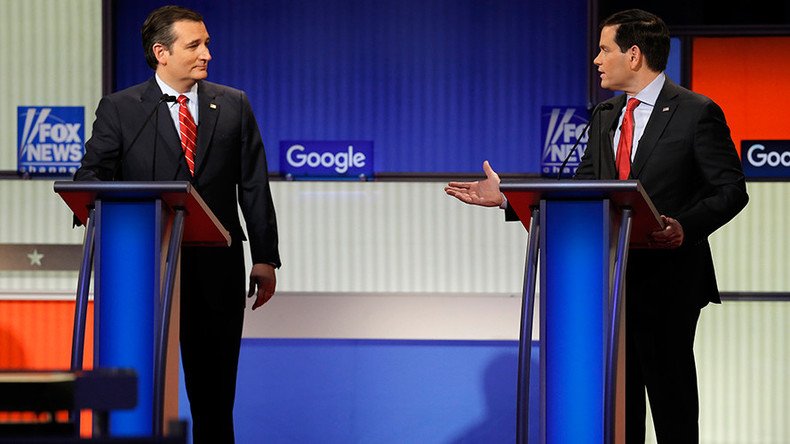 In the final Republican presidential debate before next week's votes in Iowa and New Hampshire, the top eight candidates, sans Donald Trump, tackled issues of foreign policy, immigration and military – but also, inevitably, Donald Trump.
As the frontrunner Trump hosted his own event "for the vets" three miles away from the GOP debate in Des Moines, Iowa, the Fox News host who he boycotted for being too "unfair" opened the debate with a question for Texas Senator Ted Cruz.
"Let's address the elephant not in the room," Megyn Kelly said, asking Cruz what message Trump was sending by not participating.
After thanking Iowans for their "incredible hospitality" and promising to make Iowa "not fly-over" but "fly-to country" once elected president, Cruz performed his best Trump impersonation.
Mimicking Trump, Cruz said everyone on stage was "fat, stupid and ugly," and retired pediatric neurosurgeon Dr. Ben Carson was "a terrible surgeon," before tempering the crowd laughter with a promise not to go "into the mud with ad-hominems" during his campaign.
For Jeb Bush's part, he said he "kinda miss[ed]" Trump, calling him "a teddy bear."
With the Trump references set aside, temporarily, the debate turned to Kentucky Senator Rand Paul. How did it come to be that Cruz threatened Paul's monopoly hold on the "liberty vote," those Republicans who lean libertarian?
Moderator Bret Baier asked Paul if perhaps he hadn't embraced his father, former congressman Ron Paul, early enough in the campaign.
Paul called his father "the most honest man in politics that we've had in a generation," adding that the liberty vote he brought to the GOP in 2008 and 2012 would stay "in the Paul household." He then went on the attack against Cruz for missing the Senate vote to audit the Federal Reserve, as well as his vote to increase NSA surveillance in the USA Freedom Act.
"I very much respect Ron Paul," Cruz said, promising to bring together conservatives, evangelicals and libertarians to "stitch together" a winning majority for the party.
Florida Senator Marco Rubio jumped in to say "I respect Rand," before contrasting his foreign policy view with his own, implying that Paul did not believe in "a strong America" where the NSA had all the tools necessary to hunt down terrorists.
Paul retorted, saying the NSA's bulk data collection "did not stop one terrorist attack," and that Americans should not "give up liberty for a false sense of security."
The debate turned to military spending, with Cruz and Rubio both calling for increases and citing drawdowns in the size of the military since the Cold War and World War II.
On Twitter, the lively but stylistic exchange received mixed reviews.
Meghan McCain, the daughter of former Republican presidential candidate Senator John McCain, tweeted "Preach Rubio! Rebuild our military!"
Charlie Kirk, founder and director of the youth activist organization Turning Point USA, tweeted, "Not a matter of more defense spending. Spend the 800 billion a year better."
Moderator Chris Wallace brought the issue to Bush, telling him "your brother got us into two wars" in his question about how to deal with the current chaos.
Bush called for arming the Kurds in Iraq directly, a no-fly zone over Syria and establishing safe zones there for refugees. Then he too called for a "rebuilding" of the military, while condemning the automatic cuts by sequester.
Jason Pye, director of communications for FreedomWorks, then tweeted, "One of the saddest things about the #GOPDebate is that the sequester, the GOP's only real win on spending since 2011, has been bashed."
Though the debate had brought out differences in issues between candidates, at one point Cruz tried to work the crowd against the moderators. But it was a gambit that failed. Instead, Cruz was booed for dismissing the moderator's questions and playfully suggesting, "I might have to leave the stage."
Cruz's move left Rubio a chance to win the moment, saying: "I'm not leaving the stage no matter what you ask me."
Another odd moment came when Ohio Governor John Kasich refused to answer a question because of national security concerns. Asked if he still supported a "backdoor" to encryption, a technology considered unfeasible by the tech industry, Kasich declined to elaborate on his previous statements.
"It's best not to talk about it," Kasich said, adding, "It'll be solved in the situation room of the White House."
On occasion during the debate, a YouTube star would ask a question to the candidates as Fox News partnered with Google to host the forum.
Mark Watson, a product reviewer with nearly 770,000 followers, asked about the "strain" between police and the communities they serve, citing his own experience in Ferguson.
The moderators directed Watson's question to Paul.
Paul noted that when he traveled to Ferguson, he found that one-third of the city budget was propped up by fines, which can ruin the lives of the poor. He also took the opportunity to condemn the disproportionate effects of the War on Drugs for African-Americans, saying that in Ferguson, for every 100 black women, there are only 60 black men.
A question on Obamacare went to Cruz, asking if he would be OK with millions of Americans not having insurance should the law be repealed under his presidency.
In addition to calling Obamacare, also known as the Affordable Care Act, the "biggest job killer in this country," Cruz promised to repeal "every word" of it, a line so routine that it has become associated with drinking games for debate watchers.
The next Republican primary debate is scheduled for February 6, the birthday of former President Ronald Reagan. It will be held in New Hampshire and hosted by ABC News and IJ Review.
You can share this story on social media: