Twitter tantrum or shrewd move? How skipping GOP debate keeps spotlight on Trump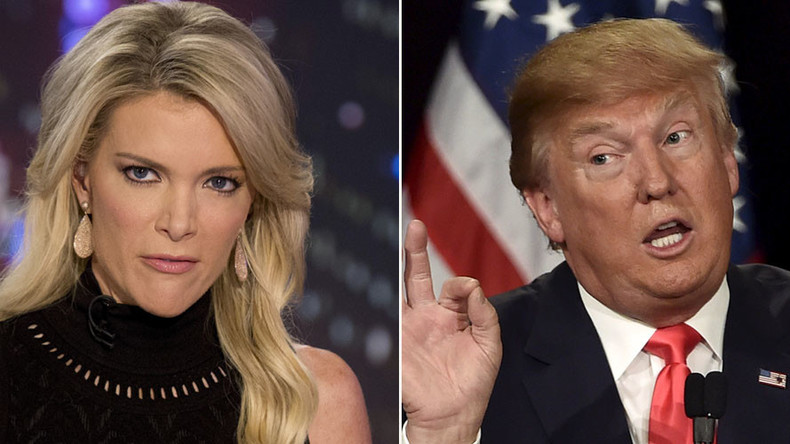 Donald Trump is taking his ball and going home, refusing to take part in the next Republican debate because of a feud with its moderator, Fox News' Megyn Kelly. While the mainstream media may focus on his decision, Trump's motivation came from Twitter.
The billionaire businessman took to social media on Tuesday to ask his followers, "Should I do the #GOPdebate?" The sanctioned debate, set to take place on Thursday night and broadcast by Fox News, will be co-moderated by Kelly, with whom Trump battled during a previous primary debate. In that August meeting, he accused her of purposely attacking him.
"I don't like her. She doesn't treat me fairly. I'm not a big fan of hers, at all. I don't care. I might be the best thing that ever happened to her, I dunno, whoever even heard of her before the last debate?" Trump told Wolf Blitzer in a CNN interview on Monday. "I don't think she can treat me fairly. And I'm not a big fan of hers. Maybe I know too much about her."
After Trump called on Fox News to drop Kelly from the debate, the news network hit back.
"Sooner or later Donald Trump, even if he's president, is going to have to learn that he doesn't get to pick the journalists ‒ we're very surprised he's willing to show that much fear about being questioned by Megyn Kelly," a Fox News spokesperson told Mediate.
Trump called Fox News' response a "pathetic attempt… to try and build up ratings for the #GOPDebate. Without me they'd have no ratings."
Despite 56 percent of respondents to Trump's tweet saying he should take part in the debate, the real estate mogul announced on Tuesday night that he would drop out of the event.
The previous six Republican debates have seen record-breaking ratings, featuring the slowly dwindling "cast of thousands" that is the GOP presidential field. Some 24 million viewers watched the first battle between Trump, Kelly, and the nine other top Republican hopefuls In August. The audience was seven times larger than the 3.2 million people who watched the first GOP primary debate in 2012, The Hill newspaper reported. No advertisers have pulled out of the debate or asked to renegotiate their contracts since Trump's announcement, a source told The Hill.
Even after Trump bowed out of Thursday's debate, the Twitter battle raged on between the candidate and Fox News.
"Megyn Kelly has no conflict of interest," the network said in a tweet. "Donald Trump is just trying to build up the audience for Thursday's debate, for which we thank him."
Fox also tweeted the other candidates' reactions to Trump's decision.
The network also bashed the billionaire's reliance on his Twitter followers to make decisions.
"We learned from a secret back channel that the Ayatollah and Putin both intend to treat Donald Trump unfairly when they meet with him if he becomes president ‒ a nefarious source tells us that Trump has his own secret plan to replace the Cabinet with his Twitter followers to see if he should even go to those meetings," Fox News told Mediate.
Instead of participating in the debate held in Des Moines, Iowa, Trump will hold a competing event of his own, the Donald J. Trump Special Event to Benefit Veterans Organizations. One of the groups the charity event is set to benefit is the Wounded Warrior Project to help injured war veterans.
The announcement of the event ‒ and the inclusion of the Wounded Warrior Project ‒ came the same day that the New York Times published an article noting that the charity organization spends lavishly on itself, with former employees bashing the country's largest and fastest-growing veterans charity for ignoring veterans' needs and focusing more on protecting and expanding its name brand.
Senator Rand Paul (R-Kentucky), who has sat out previous undercard debates in favor of live-tweeting the primetime versions, will replace Trump on stage Thursday.
You can share this story on social media: