Trump militia? Twitter group vows to protect Donald's supporters following clashes & stage attack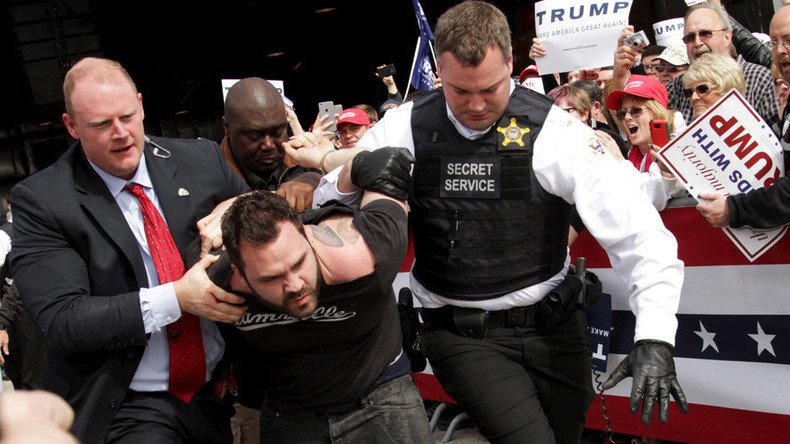 Following scuffles at a Trump rally in Chicago on Friday and hours after a man attempted to charge his stage in Ohio, a Twitter account appeared announcing the formation of a volunteer group to protect Trump supporters from "violent far-left agitators."
Things got tense again at a Trump rally in Kansas City on Saturday night, as the GOP frontrunner's arrival prompted heated response from a crowd of protesters.
Kansas City Police pepper sprayed one group of anti-Trump protesters point blank, dispersing part of the crowd and prompting an angry social media response.

"You can kick us out the rally, but GASSING us when we are peacefully protesting on public property is TOO FAR," activist Maeghan Thomas wrote on Twitter, while user @stokith uploaded a video showing that mounted police had sprayed not only the minority of disruptive protesters, but also those standing around them.
Meanwhile, Kansas City Police said on its official Twitter page that they had "had to use pepper spray 2 times outside Trump rally and arrested 2 people who refused to follow law," adding that the "majority of people exercised their rights peacefully."
Earlier on Saturday, the Secret Service swarmed the presidential candidate during his campaign event in Dayton, Ohio, when a man attempted to break through the barriers surrounding Trump's stage.
While the man's motives remain unknown, he was quickly arrested and charged by the Dayton Police Department with "disorderly conduct and inciting panic," according to The Star.
Hours after the drama, a Twitter account dedicated to protecting Trump's supporters named "The Lion's Guard" was launched… and soon disabled.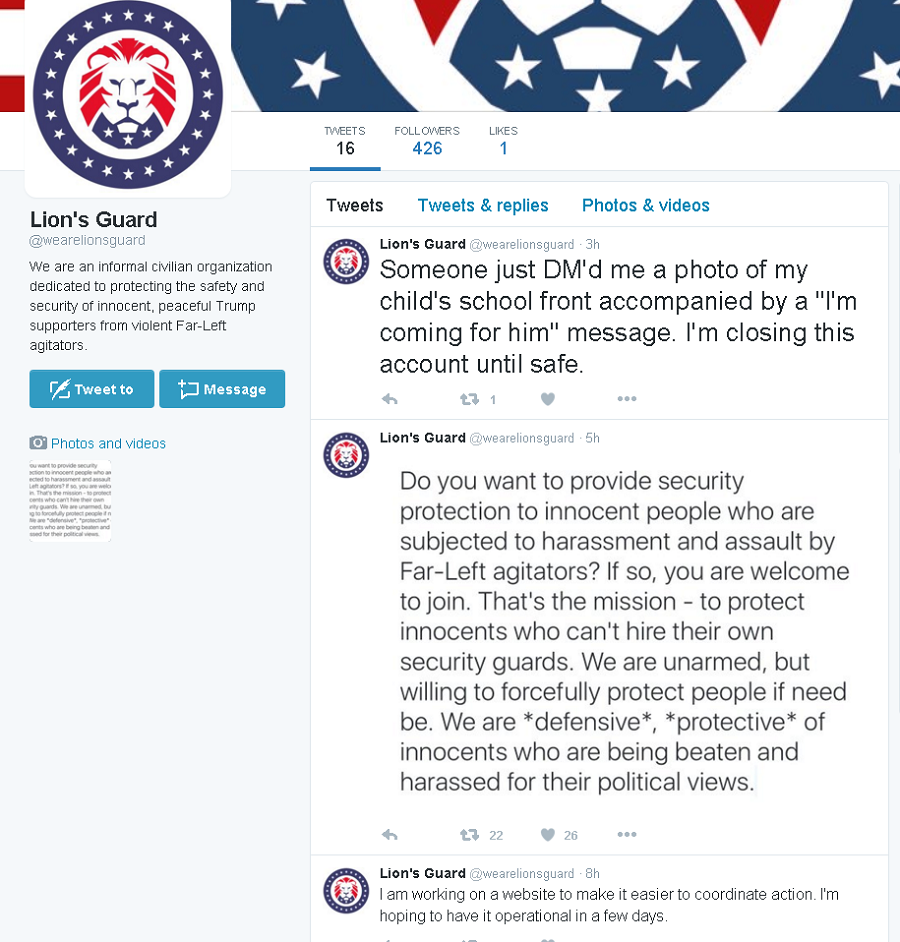 "An informal civilian organization dedicated to protecting the safety and security of innocent, peaceful Trump supporters from violent Far-Left agitators," read the account's bio. The page was deleted mere hours after its creation – after a threat was allegedly made against the creator's child.
"Someone just DM'd me a photo of my child's school front accompanied by a 'I'm coming for him' message. I'm closing this account until safe," read a tweet from the account.
In the four hours the account was active, it had amassed almost 500 followers and quite a reaction online.
Can any lawyers who are Trump supporters please DM me? Looking to form an attorney network to defend members of @wearelionsguard.

— Josh Smith (@Ebolamerican) March 12, 2016
The Ohio rally was Donald's first campaign appearance since the cancellation of his Chicago event because of violent clashes between protesters and supporters.
READ MORE: Chicago Trump rally cancelled amid protests, chaos
A large number of Black Lives Matter activists, students from the Black Student Union, and the Fearless and Undocumented group organized the protest at Friday night's rally.
Claims have appeared alleging that "it became a Bernie Sanders rally," according to Jedidiah Brown, another organizer, who said "the vast majority of the diverse protesters were Sanders supporters," reported NBC News.
However, the Democratic candidate has said his supporters were not to blame for the eruption of mayhem.
"I don't think our supporters are inciting. What our supporters are doing is responding to a candidate who has, in fact, in many ways, encouraged violence," he said, as quoted by CNN.
Either way, the level of confrontation and disruption at Trump's campaign events show no sign of lessening any time soon.
READ MORE: Eight times protesters were attacked, dragged from Donald Trump rallies (VIDEOS)
You can share this story on social media: