Looking to get away? Blue Origin plans to launch tourists into space in 2 years
Published time: 9 Mar, 2016 19:07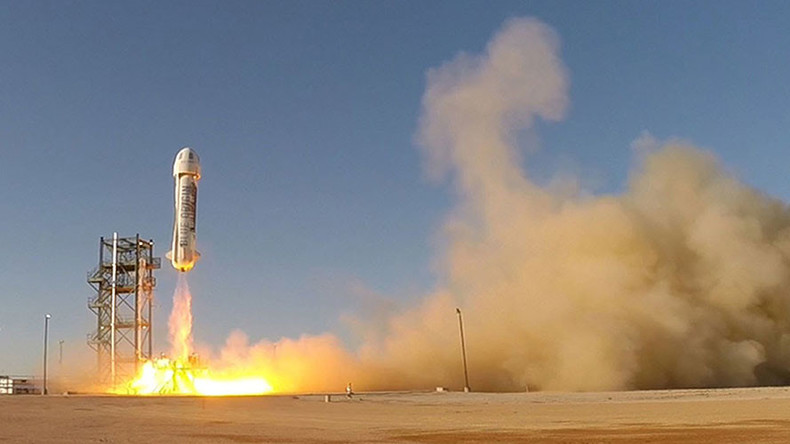 Thousands of people want to pay big bucks to travel into space, according to Blue Origin founder Jeff Bezos, and he plans to start launching them beyond Earth in 2018 if all goes well.
Bezos, who also founded Amazon.com, recently took the lid off his private space company and unveiled big plans. He doesn't want to just send paying customers into space. He also wants to perform up to 100 launches per year, perfecting technology that will ultimately enable humans to create colonies on Mars.
But before that can happen, Bezos needs to get people into space and back to Earth – safely.
Blue Origin is looking to send humans into space for the first time in 2017 as part of the company's ongoing testing process, according to The Guardian. If that proves successful, then Bezos would eye space launches for tourists beginning in 2018. So far, the founder says he's already heard from thousands of people who would be up for the excursion.
The travelers, six people per trip, would be hopping aboard the company's New Shepard spacecraft and flying off from West Texas, the New York Times reported, allowing them to experience "a few minutes of weightlessness in space."
The New Shepard has already been successfully launched – and landed – twice. Like the rival company SpaceX, Blue Origin is trying to craft rockets can that be reused again and again in order to reduce the costs of space travel. The spaceship is set for another launch over the next few months.
While Bezos believes Blue Origin will be able to turn a profit, he said that moving in this direction is about more than just money. If energy usage on Earth rises by 2 or 3 percent over the next few hundred years, humans will be required to look elsewhere for raw material and energy, he told the New York Times.
"We'll be using all of the solar energy that impacts the Earth," he said. "That's an actual limit."
His competitors aren't standing still, either. Virgin Galactic, founded by a billionaire Richard Branson, recently revealed its new SpaceShipTwo design, which will be tested on the ground before taking to the air. If testing is successful, it will begin lower sub-orbital flights, with the intention being to ultimately allow tourists to travel to space.
A seat on the SpaceShipTwo will cost $250,000, and more than a few seats have already been sold.