Muslim women escorted off plane for 'staring' at flight attendant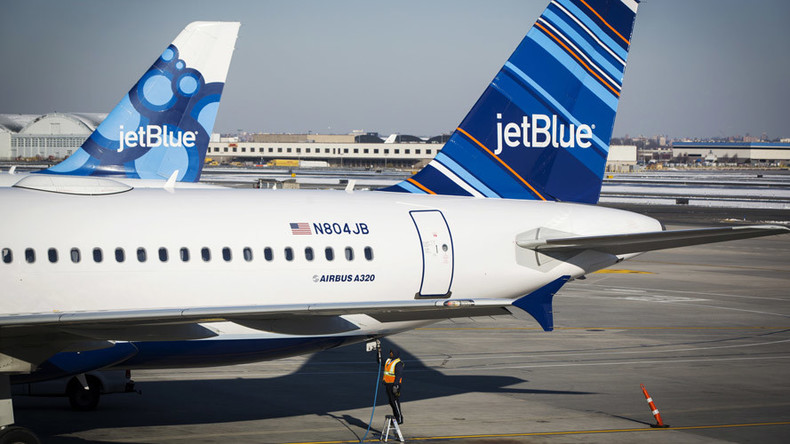 Two Muslim women were reportedly escorted off a JetBlue flight in Los Angeles, because a flight attendant "didn't like the way the two women were staring back at her."
In a video uploaded to YouTube by Mark Frauenfelder on Monday, the two women can be seen being escorted off the plane by a police officer.
Frauenfelder, a journalist and former editor of Wired, wrote in the video's description that his "friend Sharon [Kessler] was flying from Boston to Los Angeles on JetBlue flight 487" when she "overheard a flight attendant tell a coworker that she didn't like the way two Muslim women were staring back at her."
Frauenfelder says he saw Facebook post written by Kessler about the incident, in which she said the flight attendant "did not seem rattled or scared – just smug" and described the reaction as "overkill."
In what was described as a "terrible moment" after the plane landed in Los Angeles, passengers were told to remain in their seats while police escorted the two women off the aircraft first.
hey @JetBlue you need to train your staff better! I am so disappointed as an American Muslim to see Muslims being treated this way #muslim

— z (@zmstar7) March 7, 2016
It just gets more and more ridiculous. "JetBlue Attendant Doesn't Like Being Stared at by Muslim Women, Calls... https://t.co/RpMUYXSf5Y

— Tools of War Hip Hop (@ToolsofWarJams) March 7, 2016
JetBlue denied that the women had been removed on such grounds, instead claiming that the women were thought to be filming in-flight "safety procedures" procedures in breach of the airline's security rules, the Daily Mail reported.
"If a crewmember believes a customer may be filming safety procedures, the crewmember may report it for further review," the airline said in a statement.
"In this instance, our crewmembers acted in accordance with security procedures. We appreciate our customers' patience and cooperation, and apologize for the inconvenience," JetBlue added.
It is reported that the women were questioned by police, but released shortly thereafter. A spokesman for the airline was unable to confirm whether the alleged conversation had taken place during the flight.