Flight attendant arrested for setting fire to plane bathroom, forcing emergency landing
Published time: 4 Mar, 2016 00:03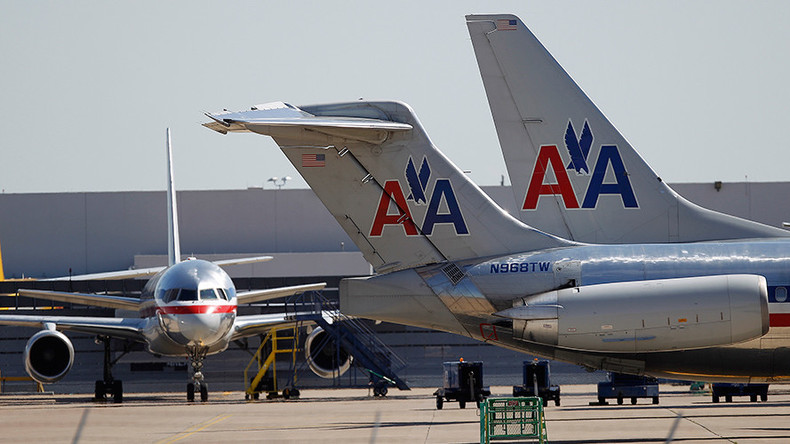 Smoking really is prohibited on the entire aircraft, including the lavatories ‒ as one flight attendant learned the hard way. The FBI arrested an American Airlines employee for intentionally lighting a fire in a plane bathroom during a flight.
Johnathan Tafoya-Montano was arrested Tuesday and charged with "destruction of aircraft or aircraft facilities" and "false statements or entries generally," the FBI said in a statement.
The 23-year-old was working aboard a February 1 flight from Dallas, Texas to Detroit, Michigan that began uneventfully. But then Tafoya-Montano told the cockpit that there was a fire, which he had extinguished, in one of the back lavatories. When the captain told the control tower of the incident, the air traffic controllers declared an emergency, forcing the plane to land at Detroit Metropolitan Airport.
Once the aircraft was on the ground, the FBI and the Wayne County Airport Authority Police Department began investigating, court documents said. After interviewing several passengers and every member of the crew, law enforcement concluded that the fire was intentionally set.
Not only that, the authorities realized, "no one used the rear lavatory at least 15 to 20 minutes prior to the fire. Only Tafoya-Montano and one other flight attendant were in the vicinity... when the fire started."
The FBI re-interviewed the flight attendant on Tuesday, when he admitted that he lied to law enforcement during their initial conversations in February. Not only were all of his previous statements untrue, Tafoya-Montano said, but he eventually "recanted all of his 'accident' stories and admitted that he intentionally set fire to the paper towels" using a "green colored Bic lighter."
"Once the fire gained intensity, he immediately put the fire out," the unnamed FBI agent said in his affidavit. Tafoya-Montano then "stood in the hallway for several minutes, pretended to discover the fire, and extinguished the remaining smoldering paper towels with a fire extinguisher after declaring an emergency."
It was after that admission that the 23-year-old was arrested.
American Airlines said that Tafoya-Montano is no longer flying with them. He worked for the company for a year and a half before the arson incident.
"We take this matter very seriously, and have been cooperating with law enforcement throughout their investigation," the company said in a statement provided to WDIV.
Tafoya-Montano made his first appearance in US District Court on Thursday. He was released on bond afterward, and was immediately escorted to Detroit Metro Airport by an FBI agent, where he boarded an AA plane back to Dallas, the Detroit Free Press reported.
Magistrate Judge Anthony Patti ordered the former flight attendant to remain seated during the entire flight. He had to share a row with a corporate security officer.
One of the conditions of Tafoya-Montano's bond includes "a prohibition from flying without permission of the court," the FBI said.