Court halts rule that would cap prices on prison phone calls
Published time: 8 Mar, 2016 22:04
Edited time: 8 Mar, 2016 22:12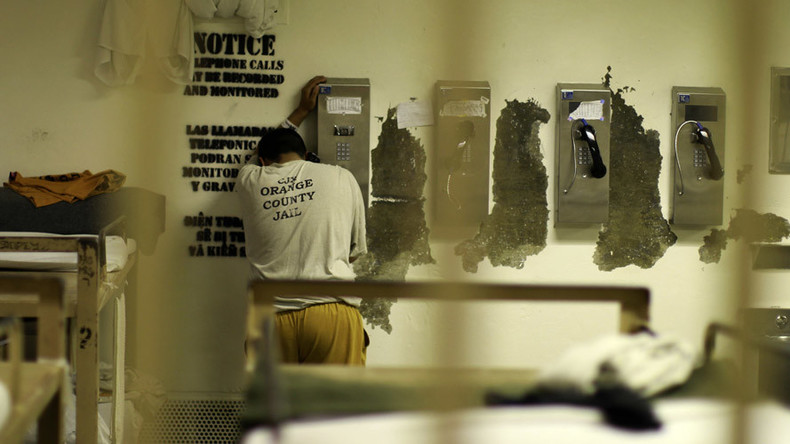 A federal appeals court has blocked an order by the Federal Communications Commission to limit the cost of phone calls made by US prison inmates. Critics say that high rates limit prisoner contact with the outside world, preventing rehabilitation.
The US Court of Appeals for the DC Circuit blocked a major portion of new FCC rules that were meant to ensure that federal prison inmates wouldn't pay more than 11 cents a minute for phone calls. Currently, some calls can cost as much as $14 a minute.
READ MORE: Koch brothers join Obama in advocating US prison reform
The court put a stay on a part of the regulations in order to allow the prison phone companies GTL and Securus Technologies to move forward with their legal challenge, intended to strike down the rule for good.
Critics say that prohibitively high rates for prison telephone calls can harm rehabilitation by breaking down family ties.
"If you are inmate and you have strong ties to your family, you are less likely to reoffend," Dianne Goldstein of Law Enforcement Against Prohibition told RT.
In their lawsuit, the companies argued that the FCC overstepped its legal authority, and that the new limits fall short of what the companies have to pay to operate in prisons.
The court did, however, allow the FCC to eliminate secondary fees related to inmate calls, meaning that the overall cost of such calls should still drop. The ban on fees will take effect on March 17 for prisons and June 20 for jails, according to Reuters.
"While we regret that relief from high inmate calling rates will be delayed for struggling families and their 2.7 million children trying to stay in touch with a loved one, we are gratified that costly and burdensome ancillary charges will come to an end," FCC Chairman Tom Wheeler and Commissioner Mignon Clyburn said in a joint statement. "These fees can increase the cost to consumers of a call by nearly 40 percent."
Interim caps set by the FCC in 2013 are also being allowed to continue by the court, the commission said, but those limits only apply to calls that cross state lines. However, lawyers evaluating the court's decision say that it might allow the FCC to extend the interim rate caps to calls that that happen within the same state, according to Ars Technica.
FCC Commissioner Ajit Pai, who voted against the new rule, said that he is not surprised by the court's decision to prevent the rate cap from being implemented.
"This case captures well how the FCC in recent years has done business," Pai said in a statement. "Political expedience trumps everything else; the rule of law is ridiculed rather than respected; and bipartisan compromise is rejected in favor of a party-line vote. Thankfully, we can still count on the federal courts to rebuke an agency untethered to the rule of law."
The FCC argued in October that its move to lower rates is aimed at prisoner rehabilitation through facilitating contact with the outside world, and it is part of a broader reform of prisons in the US. The commission said that such contact will lower the likelihood that prisoners will commit crimes again after their release.