Hair Fuhrer? Trump pledge compared to 'disgusting' Hitler salute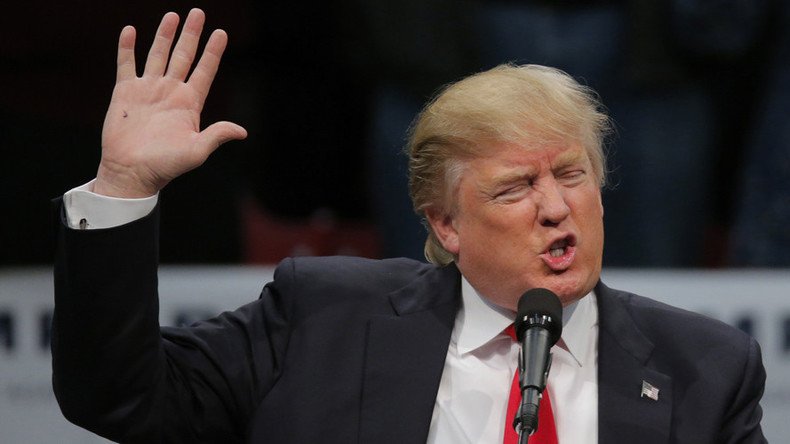 A right-hand pledge of allegiance to Donald Trump is "disgusting" and a "fascist" gesture, reminiscent of Nazi rallies, the former head of the Anti-Defamation League has said.
On Monday Republican presidential candidate Donald Trump again raised his right arm to ask supporters to pledge their support to him ‒ an act which many have likened to Adolf Hitler's infamous 'sieg heil'.
Abraham Foxman, who escaped Nazi Germany in the 1940s, thinks the action by Trump is an intentional "fascist gesture."
"He is smart enough… to know the images that this evokes. Instead of asking his audience to pledge allegiance to the United States of America… he's asking them to swear allegiance to him," Foxman told the Times of Israel.
The former National Director of the ADL – a group set up to fight anti-Semitism and "defamation of the Jewish people" – said footage of the pledge is as "disgusting as anything I thought I would ever witness in the United States of America."
Social media went into overdrive last Saturday, when at a Republican rally in Florida Trump urged the crowd to hold their right hand aloft and repeat after him.
"Can I have a pledge, a swearing? Raise your right hand," he said, before launching into a rambling oath.
"I do solemnly swear," shouted the crowd, following his lead.
"That I, no matter how I feel, no matter what the conditions, if there's hurricanes or whatever… will vote on or before [March] the 12th for Donald J Trump for president."
Essentially it was the candidate's bizarre way of ensuring votes ahead of the Florida primary. And despite a media furor, Trump repeated the trick, although half-heartedly, at a rally in North Carolina on Monday.
Likening the pledge to scenes from a 1930s Nuremberg rally, denizens of the internet have brought fascist dictator Adolf Hitler into the mix. It has led to much debate online about whether the billionaire businessman has really evoked dark dictatorial days from Europe's past.
Others, however, are not so sure of the Nazi connection and feel the comparison is not only a flimsy attempt at a political smear but also "cheapens the seriousness of the Holocaust."
You can share this story on social media: