Trump says wouldn't order 'illegal' torture, but expand laws instead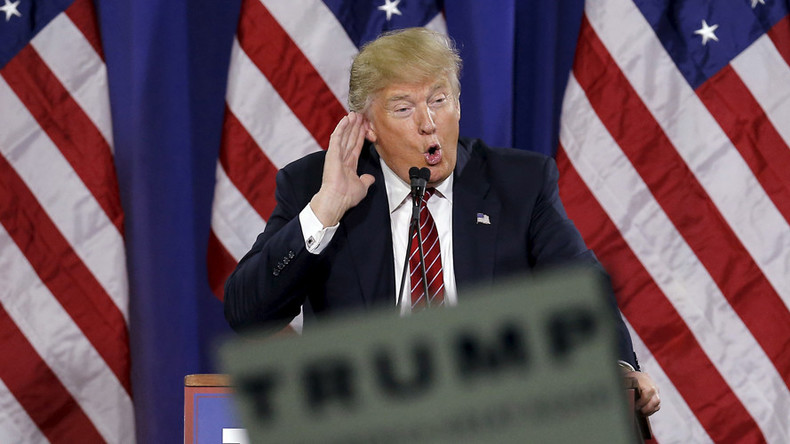 "They won't refuse," Trump declared when asked what would happen if military officers disobeyed illegal orders to commit torture under his hypothetical presidency. The next day, Trump promised he would never make such an order, but instead expand the law.
"We should go for waterboarding and we should go tougher than waterboarding," Trump said at the debate.
"I've never had any problem leading people. If I say do it, they're going to do it," Trump added, drawing mostly boos, though some positive crowd reactions as well.
Friday was a different story. After receiving flak over his remarks, Trump issued a statement clarifying that his position on torture never changed.
Acknowledging "that the United States is bound by laws and treaties," Trump vowed to "not order our military or other officials to violate those laws and will seek their advice on such matters."
"It is clear that as president I will be bound by laws just like all Americans and I will meet those responsibilities," Trump added.
"We're going to stay within the laws. But you know what we're going to do?" he told the audience at a campaign event in Orlando, Fla. on Saturday. "We're going to have those laws broadened."
Not only did Trump express support for waterboarding, he said, "I'd go stronger too, because, frankly, that's the way I feel."
Trump has long been a defender of torture, even before running for president. In December 2014, he tweeted, "If America was under the threat of imminent attack, would Obama use torture or a kiss?"
If America was under the threat of imminent attack, would Obama use torture or a kiss?

— Donald J. Trump (@realDonaldTrump) December 11, 2014
In another tweet from February 2013, he wrote, "Obama can kill Americans at will with drones but waterboarding is not allowed—only in America!" which prompted a back-and-forth with another Twitter user. That exchange turned out to be quite foreboding.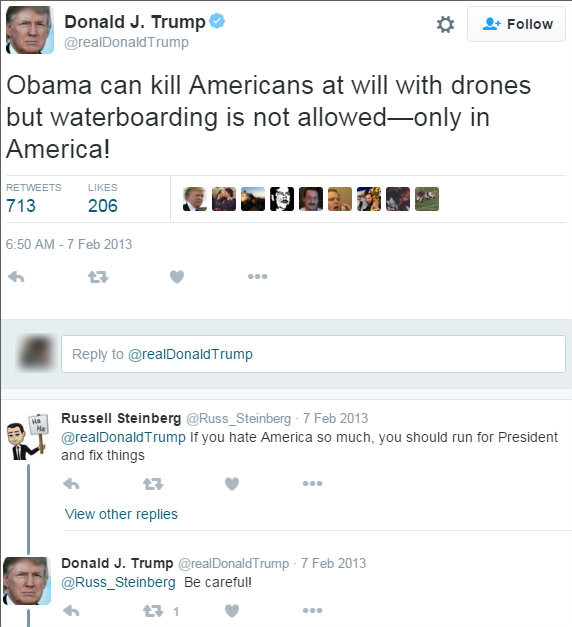 The remarks follow the release of an anti-Trump joint open-letter signed by over 100 members of the self-described "Republican national security community," including former Attorney General Michael Mukasey, former Homeland Security Secretary Michael Chertoff, neoconservative writer Max Boot, and former Counselor to the State Department, Eliot Cohen.
Writing that a President Trump would "make America less safe,""diminish our standing in the world," and be a "distinct threat to civil liberty" the group urged others on the political right to prevent the businessman's rise to power.
"His embrace of the expansive use of torture is inexcusable" was one of the nine central points of objection in the letter and was the basis for the question directed to Trump at the debate.
The Intercept reported that multiple signers had previously supported torture and have not come reversed their own positions, possibly explaining the "expansive use" qualifier.
One example was Chertoff, who counseled the Central Intelligence Agency on waterboarding, according to a New York Times report cited by The Intercept.
Another signer, Robert Blackwill, said in 2005, "Of course torture should not be widespread and of course there should be extraordinarily stringent top-down requirements in this respect. But never? … I wouldn't say never. … I'm not an absolutist in this regard," according to The Intercept.
You can share this story on social media: