Harvard law school to drop official shield over legacy of slavery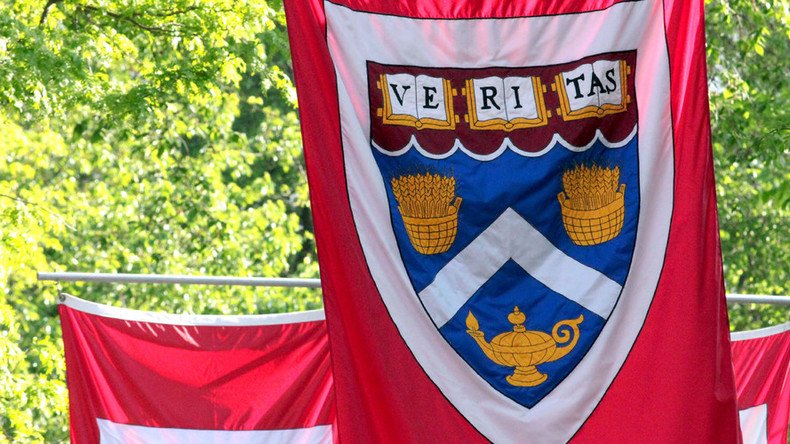 President Barack Obama's alma mater – Harvard Law School – will scrap its official shield featuring the crest of a slave-owning family that helped endow the oldest US university, amid protests that it is a distasteful symbol of a racist past.
Student activists have protested for nearly half a year for the removal of the shield, which was adopted as the symbol of Harvard Law School in the 1930s. It says "Veritas" and shows three sheaths of wheat, a symbol derived from the family crest of an 18th-Century slave owner, Isaac Royall Jr., who endowed the first law professorship at Harvard. Royall was the son of an Antiguan slaveholder, notorious for treating his slaves with extreme cruelty, including burning 77 people to death, the law school said.
In 1936, the Harvard Corporation and Radcliff Trustees adopted seals for 27 Harvard academic units, naming the Royall crest, with its three sheaths of wheat, as the Law School shield.

"We must always face not only the fact of slavery, but also its legacies and ongoing questions of injustice within our community and beyond," the law school's dean, Martha Minow, said in her letter to the Harvard Corporation, which has the final say as the university's highest governing body.

The school set up a 12-member committee of staff, students and alumni to review the crest.

"We believe that if the Law School is to have an official symbol, it must more closely represent the values of the Law School, which the current shield does not," the committee stated.

Two members of the group argued that the law school should keep the shield as it is, however.

"It is clear that, for many, there is great discomfort—disgust even —at the thought of looking at the Harvard shield and having to think of slavery," Professor Annette Gordon-Reed wrote in her "A Different View" comment. "People should have to think about slavery when they think of the Harvard shield; but, from now on, with a narrative that emphasizes the enslaved, not the Royall family," she insisted.
The shield came under fire in October, when a group of law school students set up an organization called "Royall Must Fall" calling for the removal of the Royall family crest as the school's symbol. Criticism over the seal climaxed in November when portraits of black faculty members of Harvard Law School were vandalized.
Last week, Harvard decided to give up use of the title "house master" to denote staff who head up undergraduate residences, calling them "faculty deans" instead, after students protested that the term related to slavery.

In January, a New York village decided to revamp its official seal, which depicted a white man choking a Native American. The latter considered the imagery racist.

Last year, South Carolina removed the Confederate battle flag from the grounds of the State House in Columbia, where it had flown for over a century.
You can share this story on social media: