Confederate graves vandalized in North Carolina cemetery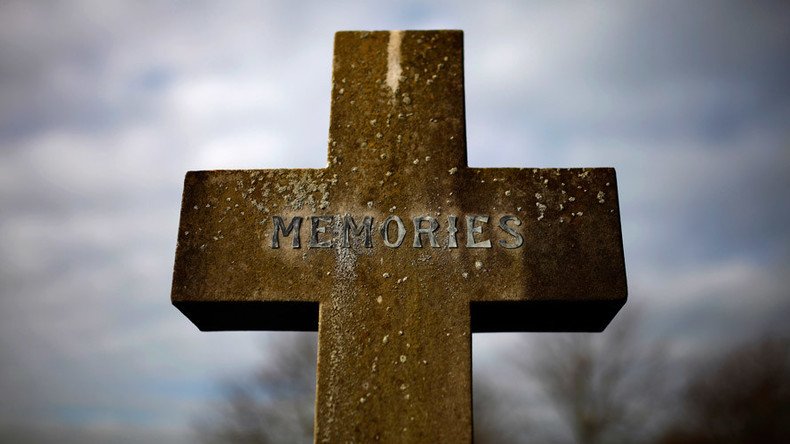 The backlash against US Confederate symbols spilled into a North Carolina cemetery when a number of graves were vandalized with anti-racist graffiti.
Nine graves in the Confederate section of Historic Oakwood Cemetery in Raleigh were targeted just before the New Year, most of them belonging to high-ranking officials.
Words such as "Slavery", "White Supremacist", "KKK" and "Not Heroes" were sprayed on the headstones, some of which were also splashed with red paint.
The cemetery's executive director Robin Simonton branded the non-violent civil disobedience a "cowardly act".
The cemetery, which is privately owned, contains the graves of hundreds of foot soldiers, including 137 who were transported from the battlefield of Gettysburg in 1871. Most of these went untouched leading investigators to believe a lot of research had been carried out by those involved as it targeted specific confederate officers.
The marble obelisk over George B. Anderson, a general with the Confederate Army who died from an injury received during the Antietam Campaign in 1862, had the word "Slavery" painted on it in red.
The marker over the grave of Randolph Abbott Shotwell, a lieutenant, had "KKK" painted in black along the bottom. Shotwell was jailed after the Civil War for his involvement in the Ku Klux Klan, but was later granted an unconditional pardon by President Ulysses S. Grant.
The vandals also targeted the grave of Charles Aycock, who was governor of North Carolina from 1901 to 1905, painting "White Supremacist" on his gravestone. Aycock was known for suppressing African Americans and was quoted in 1900 as saying they were "unfit to rule" and "unfit to vote".
Officials at the cemetery feared there would be further attacks over the New Year holiday period so held off reporting the crime to police until the following weekend.
Similar incidents have been reported elsewhere in the state over the past number of years, although Oakwood itself hasn't been vandalized since the 1980s.
A pro-Confederate statue erected at the University of North Carolina at Chapel Hill was repeatedly vandalized in 2014 and 2015, while a statue in Raleigh dedicated to the women involved in the Confederacy was spray-painted with "Black Lives Matter" last July.
Director Quentin Tarantino called the Confederate flag an "American swastika" in a recent interview for his new film The Hateful Eight.
READ MORE: Quentin Tarantino calls confederate flag the 'American Swastika'

Last month in New Orleans, the city council voted six to one in favor of removing Confederate statues.
You can share this story on social media: