Hot reentry: SpaceX lands 'hard' on droneship - Musk sees 'good chance' for next time
Published time: 4 Mar, 2016 23:55
Edited time: 5 Mar, 2016 02:16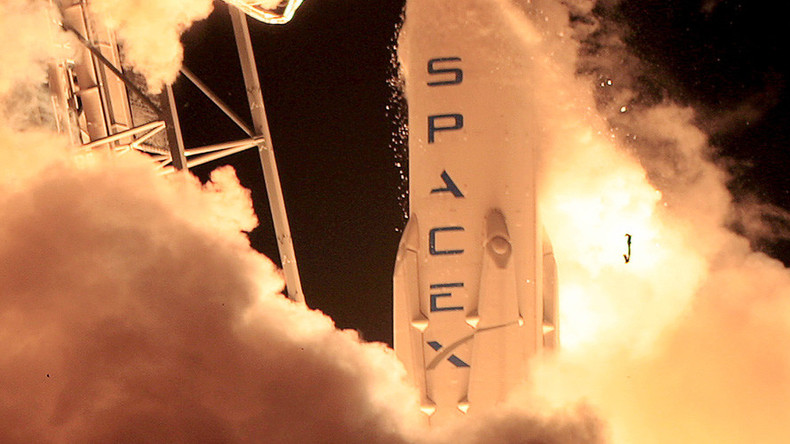 After several delays, SpaceX finally launched its Falcon 9 rocket at Cape Canaveral in Florida Friday night, and although the primary mission was completed, there was also a crash landing. Nonetheless, onlookers enjoyed an impressive spectacle.
During the launch, however, SpaceX's live video feed lost connection due to the "shaking" on the ground, according to a SpaceX host. Colored bars appeared on the screen as the livestream went out, but thankfully, audio was still running, and based on a live audience reaction to the launch, the host was able to report, "something good has obviously happened here."
The mission involved one of the heaviest satellites SpaceX has ever attempted to launch, the SES-9 which will "provide DTH broadcasting and other communications services in Northeast Asia, South Asia, and Indonesia, as well as maritime communications for vessels in the Indian Ocean," according to the satellite company SES. The goal is to get it into orbit 22,000 miles above sea level.
During the live webcast, it was confirmed that SES-9 was successfully detached from the Falcon 9 rocket.
Unfortunately, however, the landing was less of a triumph, with SpaceX CEO Elon Musk tweeting, "Rocket landed hard on the droneship. Didn't expect this one to work (v hot reentry), but next flight has a good chance."
"Given this mission's unique GTO profile, a successful landing is not expected," SpaceX said in a pre-launch statement, referring to the Geostationary Transfer Orbit.
The unmanned barge on which the rocket was supposed to land on Friday is known as "Of Course I Still Love You."
Still, spectators captured beautiful images of the launch.
SpaceX has yet to land its Falon 9 rocket on a drone boat, which has proved more difficult than landing on sturdier ground as SpaceX accomplished with a Falcon 9 in December. The last three times attempts to land a Falcon 9 on a floating surface ended in explosive destruction.
The most recent incident in which the rocket either landed too abruptly or simply lost its balance was in January. The ultimate goal is to be able to build a reliable, reusable rocket in order to make space flight cheaper.