Free Chris Christie: The Donald's Super Tuesday win trumped by NJ governor's face
Published time: 2 Mar, 2016 17:07
Edited time: 2 Mar, 2016 20:28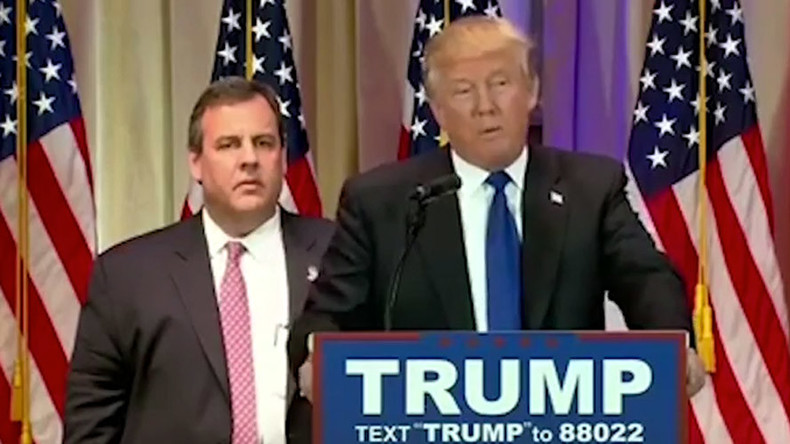 Although Donald Trump celebrated a big win on Super Tuesday, he nearly lost the spotlight to a former rival. Chris Christie's appearance on stage during Trump's speech sent social media all atwitter over the New Jersey governor's bewildered expression.
People rushed to Twitter and Facebook to mock Christie's awkward facial expression as he stood behind the Republican front-runner. They just could not stop talking about the New Jersey governor, which turned him into a trending topic on Twitter.
While some suggested that Christie was reflecting on making a serious mistake…
Others thought that he might have had an inner monologue going on…
Many questioned what Christie might have been thinking, sharing their guesses with #Christiethoughts hashtag.
Was the New Jersey governor about to burst into tears of regret over endorsing Trump last week?
Many observers even started worrying that Trump took Christie hostage.
Soon the hashtag #FreeChrisChristie took off
Of course, some thought the heavyset governor was just hungry...
Whether or not Christie was indeed concerned about something while on stage in Florida, his endorsement of Trump has really landed him in hot water back in his home state.
READ MORE: 'We're fed up': 6 New Jersey newspapers call for Gov. Christie to step down
On Tuesday, six newspapers released a joint editorial accusing the governor of neglecting his constituents and demanding he step down because "New Jersey needs someone whose full attention is devoted to making life better."
"We're disgusted with his endorsement of Donald Trump after he spent months on the campaign trail trashing him, calling him unqualified by temperament and experience to be president," the editorial reads.