SpaceX launch cancelled for third time due to boat entering launch area
Published time: 29 Feb, 2016 21:08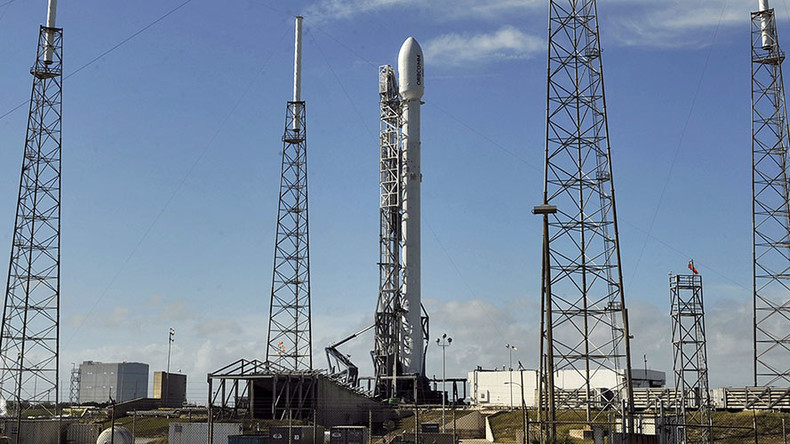 Third time was not the charm for SpaceX founder Elon Musk on Sunday, when the launch of his reusable rocket was aborted for the third time in less than a week thanks to a wandering ship.
The ship entered a predetermined safety zone around the launch pad at Cape Canaveral, Florida, forcing a delay in the launch of Falcon-9. This resulted in a dangerous rise in temperature of the cryogenic fuel stored on the rocket by the time the ship left the zone, according to Musk.
@SpaceX AF has placed launch on hold due to a boat entering the edge of the keep out zone. Scrambling helo to get them to move.

— Elon Musk (@elonmusk) February 28, 2016
@SpaceX Launch aborted on low thrust alarm. Rising oxygen temps due to hold for boat and helium bubble triggered alarm.

— Elon Musk (@elonmusk) February 29, 2016
The Falcon-9 tanks store liquid oxygen at the extremely low temperature of -340 degrees Fahrenheit (-206 C). The cold temperature allows the rocket to reduce the density of the liquid and carry more of the fuel required for the return journey. Complications arise when there is a delay in the launch as ambient air heats the oxygen, making it unstable.
The launch was aborted at the last possible second.
Ignition sequence aborted in final seconds of countdown; update pending from launch team after data review

— SpaceX (@SpaceX) February 29, 2016
On Wednesday, SpaceX delayed the original launch saying it needed extra time to chill the rocket propellant. Two days later, the launch was aborted again when problems were detected with the fuel loading procedure.
The rocket was carrying the SES-9 satellite that would have provided high-speed broadband for more than 20 countries in the Asia-Pacific region. No new launch date has been announced.
As part of creating a reusable rocket, SpaceX is also testing the ability to land the rocket upright at sea on a floating droneship. So far it hasn't gone too well.
Despite the lack of results, NASA has seen promise in SpaceX. The agency signed a $700 million contract with the company for five cargo missions to the International Space Station.