SpaceX awarded NASA contract for 5 International Space Station cargo missions worth ~$700mn
Published time: 25 Feb, 2016 05:33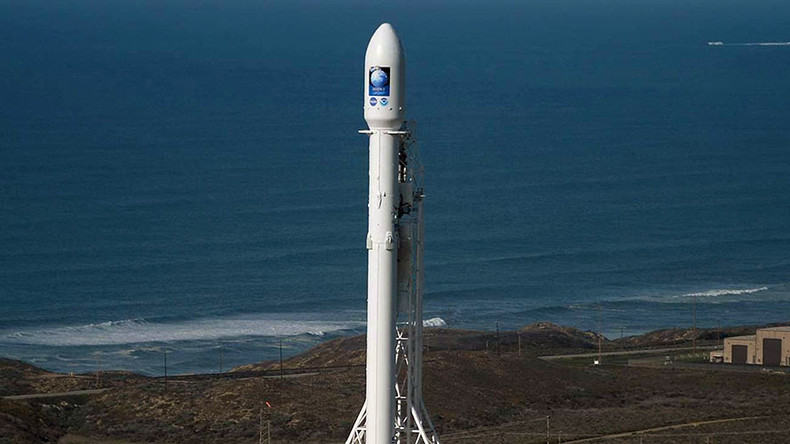 A semi-secret deal between NASA and SpaceX, signed around Christmas but only coming to light now, covers five new re-supply launches to the International Space Station (ISS) and is allegedly worth $700 million.
That figure is based on industry estimates because the precise details of the NASA Commercial Resupply Services (CRS) contract remain hidden for commercial information sensitivity reasons, Space News reported.
These additional five assignments bring Hawthorne, California-based SpaceX's total to 20 scheduled NASA missions since first signing onto the CRS contract in 2008. That is double the number of missions SpaceX's main CRS competitor has landed. Dulles, Virginia-based Orbital ATK signed its own CRS contract in 2008 for 10 committed flights, but there has been no announcement that that number has been increased.
Updates to the 2008 CRS contracts for each company are so extensive that they can seem like whole new agreements. NASA spokeswoman Stephanie L. Schierholz told Space News that they had initially been limited to cargo deliveries for the ISS, but eventually included more specific terms such as the number of launchers involved.
Still, details of how the contracting process works remain scant. When asked whether competing bids were considered before updating SpaceX's contract, NASA spokeswoman Cheryl M. Warner answered vaguely.
"We order resupply flights from our commercial providers via the contract modification process based on the mission needs to resupply the international space station," Warner told Space News.
The 2008 CRS contract with SpaceX specified that 20,000 kilograms of materials were to be delivered to the ISS over the course of 12 launches, all worth $1.6 billion. Orbital that year signed a $1.9 billion contract for eight launches. To add further contrast, SpaceX's contract involved the use of its Dragon cargo container, which is capable of making round trips that return hardware back to Earth, as opposed to Orbital's Cygnus container, which disintegrates upon reentry into Earth's atmosphere.
Subsequent revisions of the contracts increased the numbers of launches, with SpaceX adding eight and Orbital getting two more. Schierholz said CRS is being managed as an "indefinite-delivery, indefinite-quantity contract" with a max limit of $3.1 billion for each company, though the contracts do not require that cap be met, according to Space News
The SpaceX Falcon-9 rocket used in CRS missions is set for a possible launch on Thursday, February 25 after 6:46 pm EST, if weather permits. The launch will send a satellite into orbit that will provide Asian video broadcasts, and although it isn't for NASA, the space agency undoubtedly will be watching, as the Falcon-9 has failed to successfully touch down on its designated landing space—a floating "drone" ship – in three previous attempts thus far.
SpaceX CEO Elon Musk hopes to break the negative streak that started last year, when two launches ended in a rough collision with the drone barge, and the most recent attempt ended in an explosion of the Falcon-9 in January.
With CRS contracts still active, last month NASA brought on a third company to join SpaceX and Orbital in signing new CRS-2 contracts to prepare for 2019 through 2024. Sierra Nevada Corp. of Sparks, Nevada and the others are guaranteed at least six launches at a value of $14 billion, some of which will be paid out as early as this year.