Silent no more: Justice Thomas asks question, breaks 10-year SCOTUS streak
Published time: 29 Feb, 2016 20:21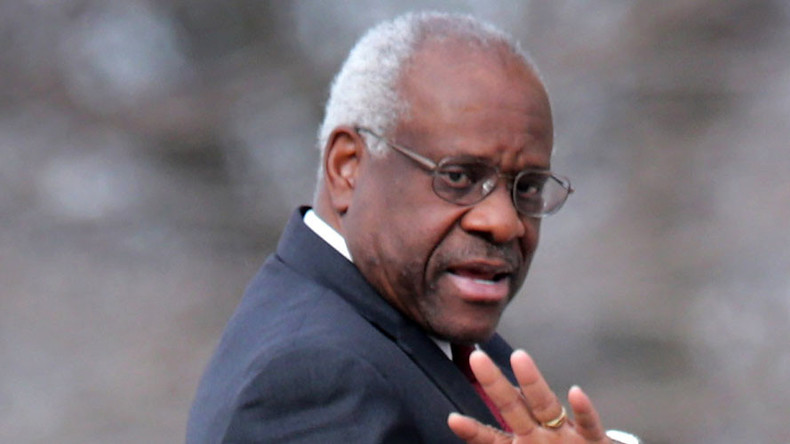 US Supreme Court Justice Clarence Thomas surprised lawyers and reporters by asking questions during a hearing for the first time on Monday in just over a decade. He often voted in lockstep with Justice Antonin Scalia, who passed away earlier this month.
The Scalia-less court had convened to hear oral arguments in Voisine v. United States, a case concerning a federal law barring individuals convicted of domestic violence from firearms ownership. As the government attorney Ilana Eisenstein was wrapping up her presentation, Thomas spoke up.
"One question," Thomas said, according to the transcript released by the Supreme Court. "Can you give me another example where a misdemeanor suspends a constitutional right permanently?"
For the next several minutes, Thomas grilled the flummoxed Eisenstein on the case.
"You're saying that recklessness is sufficient to trigger a violation – misdemeanor violation of domestic conduct that results in a lifetime ban on possession of a gun, which, at least as of now, is still a constitutional right?" the normally taciturn justice asked.
The government's attorney recovered enough to respond that in some cases, "compelling interest" has allowed a suspension of First Amendment rights to free speech and free association. Asked if those suspensions were indefinite and permanent – like the firearms ban under the present law – Eisenstein replied they were "not necessarily permanent as to the individual, but it may be permanent as to the particular harm."
READ MORE: 5 major SCOTUS cases affected by Scalia's death
Thomas then asked if any of the plaintiffs have used a weapon in their cases of domestic violence. Eisenstein had to reply that they did not, but added that "evidence that ties initial crimes of battery to future gun violence" was subjected to "robust analysis" by the lower courts.
"I believe that Congress has identified a compelling purpose and has found a reasonable means of achieving that purpose," Eisenstein concluded.a
The last time Thomas had asked a question in court was on February 22, 2006, according to the Washington Post. He has offered several explanations for the silence, saying that oral arguments were the time for the lawyers to speak. The judge also said he was self-conscious about the way he speaks, citing his native rural Georgia dialect, according to the New York Times. In a 2007 memoir, My Grandfather's Son, he wrote that he had never asked questions in law school or college.
Thomas breaking his silence has attracted more attention than the substance of the case he decided to get involved with. It involves two Maine residents who were convicted under federal gun laws years after their convictions for simple assault. Stephen Voisine slapped his girlfriend while drunk in 2003, and was convicted in 2009 after an anonymous caller reported him shooting a bald eagle with a rifle. William Armstrong III pleaded guilty in 2002 for leaving a "red mark" after pushing his wife during an argument. In 2010, police searched his home and discovered six firearms and ammunition.