5 major SCOTUS cases affected by Scalia's death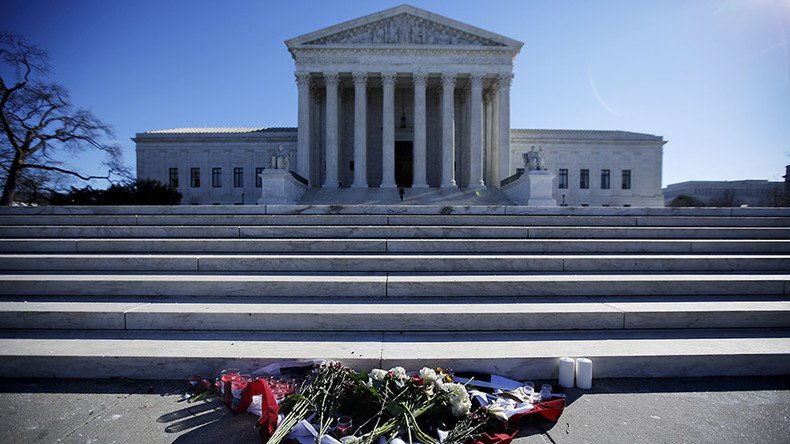 The death of conservative US Supreme Court Justice Antonin Scalia means the eight surviving members of the court could decide several major cases – on abortion rights, labor unions, and immigration – without establishing legal precedent.
In case of a deadlocked Supreme Court, the decisions made by the lower courts would remain in effect, but would remain open to future challenges.
The alternative for the even-numbered court, where the conservative bloc no longer has a clear edge, would be to re-hear a current-term case once a ninth justice is appointed. Given the political maneuvering in Washington, that may not happen until 2017.
Scalia's death means the Supreme Court now has three consistent conservative justices: Chief Justice John Roberts, Samuel Alito, and Clarence Thomas – and four consistent liberal justices: Stephen Breyer, Ruth Bader Ginsburg, Elena Kagan, and Sonia Sotomayor. Justice Anthony Kennedy has often represented a swing vote in the nine-member court, though he tends to side with the conservatives more often than not.
Here are five crucial cases currently being considered by the Supreme Court that will be affected by Scalia's passing. The Supreme Court's current session will likely end in late June.
Affirmative Action
On December 9, 2015, the court heard arguments in Fisher v. University of Texas at Austin, in which a white applicant to the school, Abigail Fisher, said the school's admission policies were discriminatory and supposedly favored minorities with lesser qualifications, which led to her rejection. Scalia has led the conservative bloc's suspicion of affirmative action efforts, especially in the Fisher case.
"­I don't think it stands to reason that it's a good thing for the University of Texas to admit as many blacks as possible," he said during oral arguments.
Despite Scalia's absence, the case may still be decided in favor of the petitioner, as Justice Kagan has recused herself, meaning a possible 4-3 vote against the university's admission policies.
Public labor union dues
On January 11, the court heard arguments in Friedrichs v. California Teachers Association, which is based around a challenge to the legality of public unions collecting mandatory "fair share" collective bargaining union dues from non-union employees. The case was headed for an almost certain 5-4 decision in favor of the petitioner, Friedrichs.
Without Scalia, a 4-4 tie from the court – should it publicly announce a decision – would uphold a lower court's affirmation of public union practices.
Abortion clinic restrictions
On March 2, the judges were set to hear arguments in Whole Women's Health v. Hellerstedt, likely the most important reproductive rights case before the court in more than two decades. The case centers around a challenge to a 2013 Texas state law that, petitioners say, would mean the closure of around 75 percent of the state's abortion clinics.
The law established severe restrictions on doctors and abortion facilities in the state. The court's decision would address whether the law places an undue burden on women who seek abortions, a legal medical procedure; and if the law would actually protect women's health, which Texas officials have claimed.
The case seems headed for a 4-4 tie, barring support for the petitioners from Justice Kennedy.
Contraception and Obamacare
On March 23, the court is scheduled to hear arguments in Zubik v. Burwell, a challenge to the contraception mandate in the Affordable Care Act, also known as Obamacare.
The petitioners, including religious non-profit entities including hospitals and universities, say they have moral objections to birth control coverage in health insurance they provide employees, even though the law accommodates them by requiring insurance companies and the federal government to provide contraceptives instead of these organizations. The institutions say the arrangement represents indirect participation in the provision of contraceptives, and they are calling for exclusions to the law. The federal government says these employers have workers who do not share the same religious beliefs, and would thus be harmed by exclusions.
A Scalia-led conservative bloc was poised for victory in the case. Now, a 4-4 tie is likely, unless the case is re-heard once a new, ninth justice is in place.
Immigration
In April, the court is set to hear arguments in United States v. Texas, a case concerning President Obama's executive order that would shield more than 4 million undocumented immigrants from deportation, allowing them to work indefinitely, and legally, in the US.
Lower courts ruled against the proposal. A case decision, if announced, seems destined for a 4-4 tie, unless Obama can gain support from one conservative justice.
You can share this story on social media: