Confusion over origin of 2 kids killed in Washington state shooting initially believed to be Russian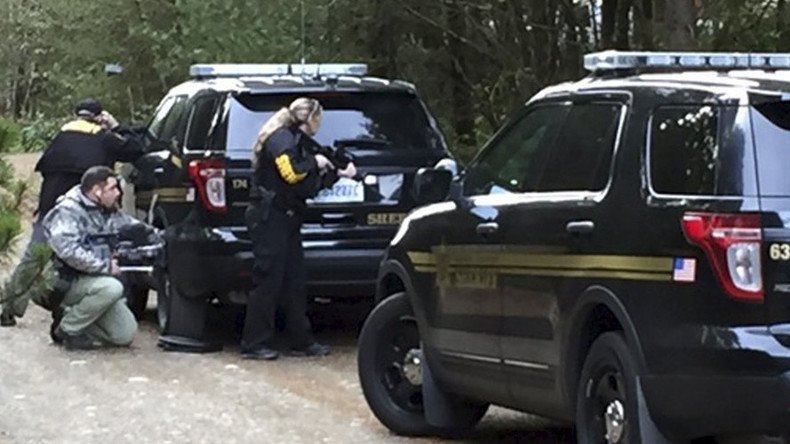 A man shot four people dead in Washington state before committing suicide during a police stand-off. Among the victims are two children believed to be adopted from a foreign country initially thought to be Russia.
The assailant called police himself on Friday, saying he had shot his family in their house in a rural area near the town of Belfair in Mason County.
Upon arriving, police held negotiations with the man for about three hours before Special Weapons and Tactics (SWAT) team decided to storm the house. The killer committed suicide.
Along with the attacker's body, police found four more dead people, as well as a surviving 12-year-old girl, who was taken to hospital. All of the victims are thought to be members of the killer's family.
"It's a terrible tragedy," Mason County Sheriff Casey Salisbury said, as cited by US media.
The shooter had been married to the woman he killed for four or five years, neighbor Jack Pigott told the New York Times. The woman had two children from a previous marriage who had been adopted from a foreign country, initially thought to be Russia. Both teenagers were killed in the shooting.
"I was told by the police department, police investigators that the two boys were of Russian nationality," Mason County Coroner Jane Pentz told Sputnik.
"The names [after adoption] of the two boys are Tory Carlson, his birthday was April 4, 1997. Second boy was Quinn Carlson, his birthday was May 13, 1999," she added.
She also said that US authorities would share information concerning the incident with Russian diplomatic authorities.
The Russian Foreign Ministry, however, said that it has not yet obtained any information about the citizenship of the killed children. Russian consulate-general officials in Seattle went to the Mason County sheriff's office to get details on the incident, a Russian diplomatic mission spokesman said, as cited by RIA Novosti.
According to various reports, the children may have been adopted from Russia, Belarus, Kazakhstan or Ukraine.
Russia has often criticized US authorities for neglecting to check up on the welfare of children adopted from abroad. In 2012, Russia passed the so-called Dima Yakovlev Law banning adoptions of Russian children by American parents and imposing sanctions on people involved in violating the fundamental rights and freedoms of Russian citizens. The law followed an incident in which 21-month-old Dima Yakovlev died after being left alone in a hot car.


You can share this story on social media: