'Teen sexting legal': New Mexico rules 14-17yos can exchange nude selfies without going to jail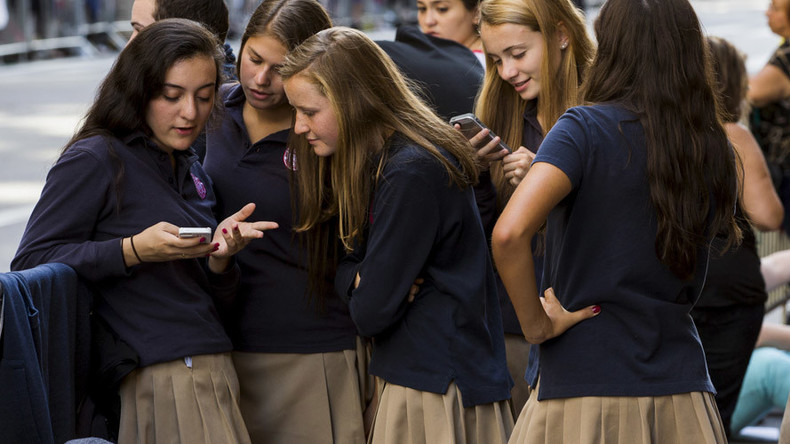 Teens in the US state of New Mexico have been officially allowed to keep themselves busy sexting – sending or receiving sexually explicit messages, images through e-means, particularly between cell phones – without fear of paying the price and going to jail.
A new bill has legalized sexting between 14 and 17 years old, who willingly send explicit images of themselves to one another. Before it was passed, New Mexico minors could face charges of possessing, distributing and manufacturing child abuse images, if caught sexting. From now on, a pair of youths sharing explicit photos with each other no longer risk facing child pornography charges, prison terms and a criminal record.
"Kids will be kids, and they're going to make mistakes," state senator George Muñoz, a Democrat who pressed for an amendment to the child pornography bill. "You can't punish them for the rest of their lifetime with a charge of child pornography… if they're consensually sending photos back and forth," the Guardian quoted him as saying.

"Most people, from a commonsense perspective, agree that this is not behavior that should be criminalized," Steven Robert Allen, policy director of the American Civil Liberties Union of New Mexico, which helped craft the legislation, told the newspaper. "It's misguided behavior and certainly something where parents should get involved. But kids shouldn't be charged… It's just absurd."
The bill has come under fire from the state's attorney general and the Republican Governor Susana Martinez, however. Martinez, who signed legislation increasing New Mexico's penalties for possessing, distributing or manufacturing child pornography, said that the amendment wasn't flawless.

"I don't support the so-called 'sexting' amendment, as I believe the reasoning behind it is misinformed and it was not carefully considered," Martinez said in a statement, adding that she would ask the legislature to "work on this issue" in the next session.

The new law stipulates sentences of up to 10 years for the possession of child pornography, 11 years for distribution and 12 years for manufacturing. Another year can be tacked on for preying on children under 13.

The state attorney general, Hector Balderas, has also slammed the sexting proposal as dangerous. "I cannot support an amendment that weakens protections for teenagers from predatory activity [and] creates a dangerous new child exploitation loophole," he said.
Most US states haven't reviewed their child abuse image laws to account for sexting, however.

A state lawmaker in California is carrying a bill that would let schools suspend or expel students for sexting. The bill, which specifically deals with images or video, highlighting cases where the communication has "the effect of humiliating or harassing a pupil," The Sacramento Bee reported.

"Sexting has real consequences," Ed Chau, the author of the Assembly Bill 2536, told the newspaper. "You basically have a sexting issue and then that issue is exacerbated by the proliferation of these smartphones." He hopes the bill would teach students "so they won't engage in this conduct."