Republican Nevada Caucuses: A history of turmoil
Published time: 22 Feb, 2016 21:05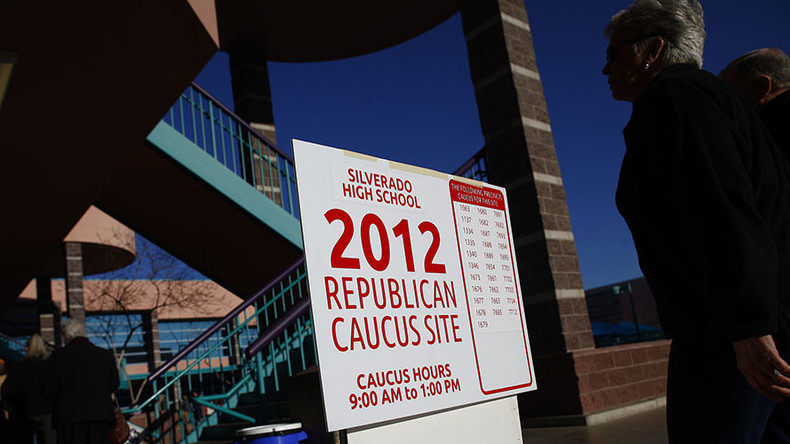 If Nevada's 2008 and 2012 Republican caucuses are any indication, the Silver State's "First in the West" presidential nomination contest, scheduled for Tuesday, could come down to unbridled chaos.
The last two Nevada GOP Caucus events ended in acrimony, fueled by a nominating process that is still relatively new to the state and structured in a way that easily breeds claims of disenfranchisement.
Meanwhile, the Nevada Republican Party has not inspired confidence among the presidential candidates seeking votes in a vast state where residents are difficult to poll, compounding fears of a contested final result to this year's caucuses, as was the case in 2008 and 2012.
There are 1,700 precincts in Nevada, with more than 130 caucus locations, according to the Las Vegas Sun. Caucus attendees will meet in locations such as schools and churches in the state's 17 counties. Per caucus rules, a supporter of each candidate will give a speech attempting to sway caucus attendees to vote for that candidate.
"Since delegates generally vote for other delegates who support the same candidate as they do, it's advantageous for a candidate to elect as many people as possible as delegates at the precinct caucuses," the Nevada GOP caucus website says.
Prior to 2008, Nevada held a primary for its presidential nomination contest. In primaries, registered voters use basic ballots to cast their preference in a process run by the state. Caucus systems are less straightforward than primaries, with an emphasis on day-long precinct voter debates that ultimately end up with delegates selected to send to a county convention. County conventions then elect delegates for a state convention, which then elect representatives to be sent to a national party convention in late summer.
After the 2004 presidential election, Nevada sought to gain more influence in the nomination process. The first Western state to hold a presidential nomination contest, Nevada switched to a caucus format during the 2008 presidential election season.
With the first caucus came contention. In 2008, establishment candidate Mitt Romney garnered more than half of the votes, yet the campaign of second-place finisher Ron Paul complained of "multiple inconsistencies" in the caucus process.
"The inconsistencies, errors and multiple changes in the rules reek of playing politics with the what should be a neutral process," said Paul's campaign manager Lew Moore. "The people of Nevada deserve to know exactly what the rules are and to know that those rules are being fairly enforced. This has not happened up to this point, and the caucus appears to be in chaos."
Meanwhile, Paul's grassroots supporters overran the state Republican convention, eventually forcing a delay in the naming of national delegates.
In 2012, amid another second-place finish behind Romney – who ended up becoming the national nominee – Paul's supporters alleged fraud and later refused to vote for Romney at the state convention. State officials took three days to release a final vote tally, a delay especially glaring given that missing precincts were located in contested Clark County, location of the state's largest city, Las Vegas.
I am in Las Vegas, at the best hotel (by far), Trump International. I will be working with my wonderful teams and volunteers to WIN Nevada!

— Donald J. Trump (@realDonaldTrump) February 22, 2016
"About midway through the night I said, 'This is ludicrous'," state GOP Chairman Amy Tarkanian told Politico at the time, regarding Clark County's overdue ballot result. "So I sent my state party people down there, including my husband, and said, 'Go help them count, this is crazy.'"
Despite Romney's win in the caucuses, 22 of the 28 national delegates chosen to represent the state at the Republican National Convention were Paul supporters who won out over Romney backers at the state convention.

Now, on the eve of the 2016 Republican caucuses, observers say the embattled state GOP is in no better shape.
"I think all campaigns have some concerns," an anonymous Republican presidential operative in Nevada told Politico. "The caucus process is messy and there will inevitably be problems."
Last year, the Nevada state legislature aborted an attempt to switch back to a primary system. Further adding to concerns, voter turnout is unlikely to eclipse the lackluster numbers from 2012, operatives told Politico.
"If we can't boost our turnout more than we did in 2008 and 2012, then we're at a serious risk of losing our early state status," said Robert Uithoven, a Nevada consultant working for Ted Cruz's campaign. "Selfishly, I hope we can have a high enough turnout so we can maintain our spot in the calendar because there's a lot of speculation that we're going to lose it."