Jeb Bush suspends campaign as Trump secures solid win in South Carolina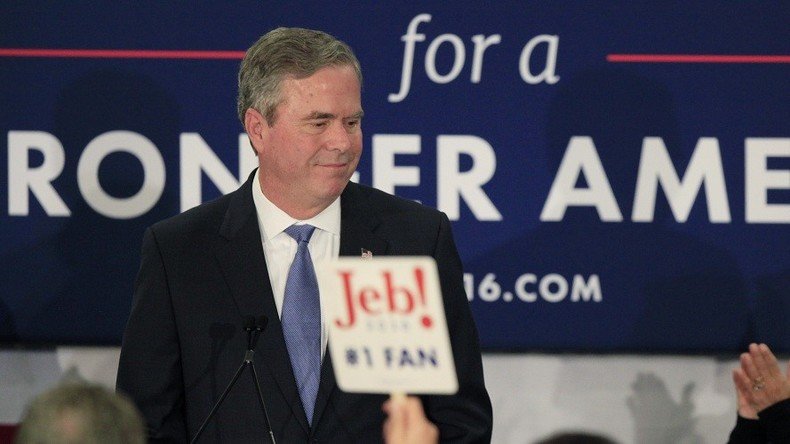 Former Florida Governor Jeb Bush has dropped out of the 2016 White House race after losing the primary in South Carolina to Ted Cruz, Marco Rubio and billionaire Donald Trump, who secured a strong victory with around a third of the vote.
"Tonight I am suspending my campaign," Jeb Bush announced to his supporters after Donald Trump secured the primary victory in South Carolina. "In this campaign, I have stood my ground, refusing to bend to the political winds."
"I'm proud of the campaign we won to unify our country, and to advocate conservative solutions... But the people of Iowa, New Hampshire and South Carolina have spoken," the former Florida governor said in Columbia.
Bush formally launched his race to secure the Republican nomination on June 15, 2015, six months after announcing that he would run for top office. He was supported by the Right to Rise political action committee (PAC), which in May 2015 had raised in excess of $100 million for campaign launch.
Bush's failure to secure any substantial support for his candidacy stemmed from the unpopular image of his brother, President George W. Bush, as many refused to see a third Bush in office. He openly stated that his brother is his "top foreign policy adviser", from whom he learned about "protecting the homeland."
In this regard he advocated increasing military spending called for a "more robust" approach toward Russia. Bush dubbed Russian president Vladimir Putin a "bully" as he advocated placing more NATO troops in Poland and the Baltic states while expanding American military exercises in the region.
The 63-year old supported banning abortion after 20 weeks and limiting affirmative action. He also supported the continued collection of metadata of phone calls by the National Security Agency. The former governor also stood for expanding gun owners' rights and supported death penalty.
With such election points Bush came in sixth place in Iowa, fourth in New Hampshire, in South Carolina, far behind other GOP contenders Donald Trump, Ted Cruz and Marco Rubio.
Meanwhile the Republican presidential nominee hopeful Donald Trump secured a solid win in South Carolina, a second-straight victory after his first-place finish in New Hampshire.
Trump welcomed Bush's decision telling his own supporters in South Carolina that "as people drop out, I'm going to get a lot of those votes also... It's tough, it's nasty, it's mean, it's vicious – it's beautiful."
Trump has secured over a third of the vote, while Florida Senator Marco Rubio came in second and Texas Senator Ted Cruz third. The remaining three candidates – Ohio Governor John Kasich, retired surgeon Ben Carson and former Florida Governor Jeb Bush showed single digits.
Historically South Carolina is known for picking the eventual nominee, as the trend shows the state winner to secure the party's nomination in every race since 1980, with one exception to the trend when in 2012 Newt Gingrich won over the eventual presidential contender former Governor of Massachusetts Mitt Romney.
South Carolina Republican primary took place as the Democrats held their caucus in Nevada, where Hillary Clinton was declared the winner, defeating Bernie Sanders by a disappointingly narrow margin.
You can share this story on social media: