US Air Force conducts test of Minuteman 3 missile (VIDEO)
Published time: 22 Feb, 2016 18:23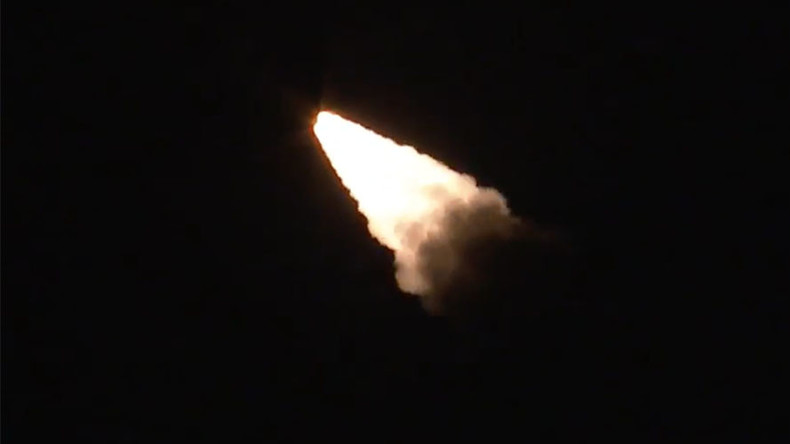 Another unarmed intercontinental ballistic missile within the US Air Force's Minuteman III program was test-launched from Vandenberg Air Force Base in California over the weekend.
The Minuteman III missile, fired just after 11:30 pm PST on Saturday, carried a re-entry vessel that successfully landed 4,200 miles away on an atoll in the Marshall Islands in the Pacific Ocean, the Air Force said.
"There was a slight delay due to some instruments downrange but it went within the launch window," said Carla Pampe, chief of civic outreach for Air Force Global Strike Command, according to AP.
The test-fire included Air Force personnel from 576th Flight Test Squadron, the 625th Strategic Operations Squadron at Offutt Air Force Base in Nebraska, and the 91st Missile Wing at Minot Air Force Base in North Dakota.
Minuteman III test launches help provide data for the nuclear deterrent program, said Colonel J. Christopher Moss, commander of the 30th Space Wing who had launch authority for the test firing.
"This specific test will provide accuracy and reliability data that is essential to on-going and future modifications to the weapon system, which are key to improving the already impressive effectiveness of the Minuteman III force," he said.
The test launches are, in no small part, a muscle-flexing exercise on display for the rest of the world, another Air Force official said.
"The flight test program demonstrates one part of the operational capability if the ICBM weapon system," said Colonel Craig Ramsey, commander of the 576th Flight Test Squadron at Vandenberg.
"When coupled with the other facets of our test program, we get a complete picture of the weapon system's reliability. But perhaps most importantly, this visible message of national security serves to assure our partners and dissuade potential aggressors."
USAF's Global Strike Command currently oversees more than 400 ICBMs deployed at three Air Force bases in North Dakota, Wyoming, and Montana. All of the missile wings randomly select ICBMs from their silos to perform operational test launches every year. Each test launch requires a selected USAF Missile Wing – in the most recent case, it was the 91st Missile Wing – to transport a randomly selected missile to California, reassemble it on-site, bring it to operational status, and then conduct the test firing.
Previous Minuteman III ICBM tests occurred in October and August, the latter being the 45th anniversary of when the first Minuteman III missiles were put on alert at Minot Air Force base in 1970.