US Air Force test-fires Minuteman missile on flight anniversary (VIDEO)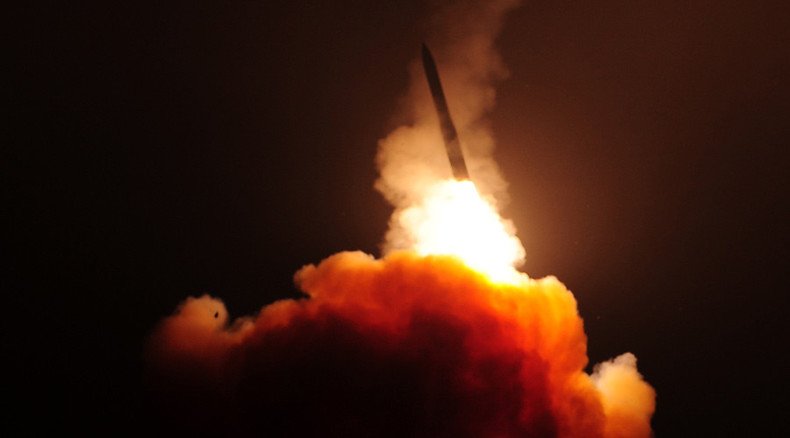 The US Air Force test-fired an intercontinental ballistic missile from a base in California. Officials say the test marked two anniversaries of the Minuteman missile program and sent a message to "adversaries who threaten peace."
Personnel from the 91st Missile Wing, based out of Minot Air Force Base in North Dakota, conducted the test with the 576th Flight Test Squadron and the 30th Space Wing at the Vandenberg Air Force Base in California.
The Minuteman III ICBM was launched at 3:03 local time (10:03 GMT) Wednesday and successfully hit the target area near the Kwajalein Atoll in the Pacific Ocean, some 4,200 miles away, the Air Force said. The missile was fitted with a "test re-entry vehicle" instead of a live thermonuclear warhead.
The LGM-30G Minuteman-III is the only land-based ICBM in US service. Wednesday's test took place 45 years after the first Minuteman III missiles were put on alert at the Minot AFB, on August 19, 1970. A previous version of the missile, Minuteman II, was launched from Vandenberg on August 18, 1965.
August 19 is also the birthday of aviation pioneer Orville Wright, and has been designated National Aviation Day since President Franklin Delano Roosevelt's proclamation in 1939.
"The Minuteman ICBM was planned, and proved to be, an efficient, mass-produced, simple, and survivable missile capable of targeting multiple objectives," said Shawn Riem, 30th Space Wing historian. "Such a weapons system helped close the perceived missile gap with Soviet Russia. Minuteman ICBMs cut time-to-launch from hours to minutes – a feat very important in the early days of the Cold War."
"Since the 1960s, the Minuteman weapon system has preserved our way of life and helped secure the United States' interests – both domestic and abroad," added Staff Sergeant Kyle Wiens, of the 576th Flight Launch Test Squadron.
A previous test, in March, involved the 90th Missile Wing, based out of the Francis E. Warren AFB in Wyoming. Each test launch requires the wing to transport a randomly selected missile to California, reassemble it on-site, bring it to operational status and then conduct the test firing. a
"The launch itself is going to ensure that the missile is going to do what it was designed to do, and it's good to see that, because we don't get this every day," the Air Force statement quoted Lt. Benjamin Shea, assistant flight commander at the 741st Missile Squadron.
"When I think of the value of these types of tests have played over the years, I think of the messages we send to our allies who seek protection from aggression and to adversaries who threaten peace," said General Robin Rand, new head of the Air Force's Global Strike Command (AFGSC), who was on hand to observe the launch.
AFGSC currently oversees more than 400 ICBMs deployed at three Air Force bases in North Dakota, Wyoming and Montana. All of the missile wings randomly select ICBMs from their silos to perform operational test launches every year.
LISTEN MORE:
You can share this story on social media: