US test-fires intercontinental missile in California (VIDEO)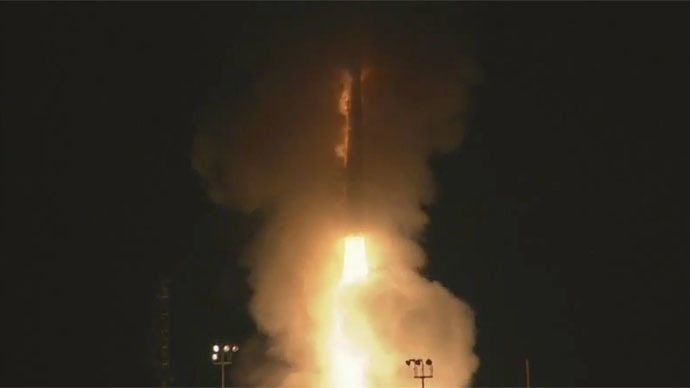 An intercontinental ballistic missile was fired early Monday from a facility in California, the US Air Force announced, saying the tests were a message to the world about Washington's nuclear capabilities.
The Minuteman III missile was fitted with a "test re-entry vehicle" instead of a live thermonuclear warhead, and was test-launched from Vandenberg Air Force Base (AFB) in California at 03:36 local time (10:36 GMT), according to the Air Force statement.
Check out this morning's #ICBM test launch thanks to @30thSpaceWing, F.E. Warren & @AFGlobalStrike#Airmen! http://t.co/QUwj8kbwjQ#AirForce

— U.S. Air Force (@usairforce) March 23, 2015
"With these launches, we not only verify our processes and the ICBM (intercontinental ballistic missile) weapon system, we provide a visual to the world that the Minuteman III is capable of striking pretty much anywhere with extreme precision," said Lt. Col Tytonia Moore of the 90th Missile Wing, based out of the Francis E. Warren AFB in Wyoming, according to the statement.
The "Mighty Ninety" is one of the USAF's three missile wing commands – the other two being the 91st at Minot AFB in North Dakota and the 341st at Malstrom AFB in Montana. There are roughly 450 ICBMs between the three.
Since Peacekeeper missiles were retired under the START II treaty, the LGM-30G Minuteman-III is the only land-based ICBM in US service. The silo-launched, ground-attack guided missile is normally equipped with W87 thermonuclear warheads.
READ MORE: Drills for me but not for thee: NATO launches war games near Russian border
Vandenberg, home to the 30th Space Wing of the USAF Space Command (AFSPC), has conducted multiple missile tests over the years, most recently in September 2014. In April 2013, a test was postponed for a month due to tensions with North Korea.
According to the US Air Force, the ICBM test launch program "demonstrates the operational credibility of the Minuteman III and ensures the United States' ability to maintain a strong, credible nuclear deterrent as a key element of US national security and the security of U.S. allies and partners."
The missile test comes amid massive NATO war games across Eastern Europe. Meanwhile, the Russian military has deployed 76,000 troops, over 10,000 vehicles, 65 warships, 16 support vessels, 15 submarines, and 200 warplanes and helicopters for surprise drills across the country.
You can share this story on social media: