Drills for me but not for thee: NATO launches war games near Russian border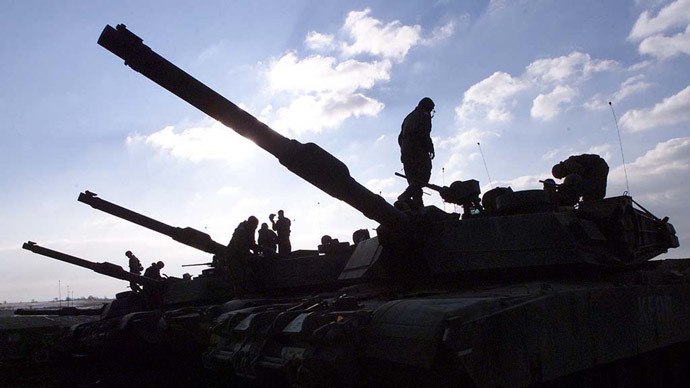 Despite being quick to condemn Russian military manoeuvers, NATO is conducting wide-scale war games in the Baltic states and creating a "line of troops" across Eastern Europe. The US denies a double standard, but records and transcripts suggest otherwise.
Thousands of US troops and hundreds of tanks have poured into Estonia, Latvia and Lithuania in the past two months as part of an operation dubbed "Atlantic Resolve." In February, 140 NATO vehicles and 1400 troops swept through Narva, a mere 300 meters from the Russian border.
Operation Atlantic Resolve: http://t.co/oFxvnXHxFk | Updated factsheet: http://t.co/TIAL5D05M8#AlliedStrongpic.twitter.com/uKYIAMPL5y

— US Mission to NATO (@USNATO) March 14, 2015
"As you connect countries, there is almost a line of US troops," Defense News quoted Col. Michael Foster of the 173rd Airborne Brigade on March 2 as saying. US forces have previously held joint war games with Baltic nations, with names such as "Saber Strike," "Spring Storm" and "Flaming Sword."
READ MORE:Over 100 US armored vehicles roll into Latvia, NATO flexes muscles in Europe (VIDEO)
When asked why the US was condemning Russian exercises inside Russia, State Department press official Jeff Rathke told RT no such statement had ever been made.
While the US has not criticized every military drill conducted by the Kremlin, last August State Department spokeswoman Jen Psaki said Russia's aviation exercises are "provocative and only serve to escalate tensions."
Just last week, Washington pushed Vietnam to prevent Russian aircraft from refueling there.
"We have urged Vietnamese officials to ensure that Russia is not able to use its access to Cam Ranh Bay to conduct activities that could raise tensions in the region," one State Department official told Reuters, on the condition of anonymity.
Meanwhile, in the first three weeks of February, the US Navy flew its latest surveillance aircraft from bases in the Philippines over disputed islands in the South China Sea. The P-8 Poseidon is equipped with the latest sensors and electronics in the US Navy arsenal, and can "pack a serious punch," according to one US military analyst.
READ MORE: Navy flies new plane over disputed South China Sea
"Wouldn't US and NATO maneuvers on Russian borders, at a time when the West and Russia are at odds over the crisis in Ukraine, also "raise tensions?" asked AP diplomatic correspondent Matt Lee.
"We would disagree with that," replied Rathke.
Some, however, found the assertion unconvincing.
"It's a shocking level of hypocrisy, double standards, doublespeak," Brian Becker of the ANSWER coalition (Act Now to Stop War and End Racism) told RT.
Russia announced a massive surprise military drill earlier this week, putting forces all over the country on high alert and conducting exercises in the Baltic Sea, Black Sea, the Arctic and the Far East. The ongoing snap check of the military involves about 76,000 troops, over 10,000 vehicles, 65 warships, 16 support vessels, 15 submarines, 200 warplanes and helicopters.
You can share this story on social media: