​US Navy flies new plane over disputed South China Sea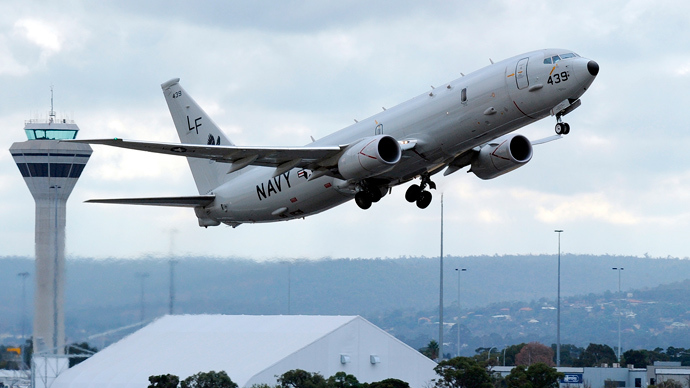 As disputes over South China Sea islands continue, the US Navy has acknowledged flying its most advanced scout aircraft over the area, from a base in the Philippines, during the first three weeks of February.
Older P-3 Orion reconnaissance aircraft have flown from Philippine bases since 2012 under a bilateral agreement, according to Philippine Armed Forces spokesman Col. Restituto Padilla. This is the first time, however, that the newer P-8 Poseidon model was deployed.
Developed from the Boeing 737 civilian airliner, the P-8 entered service in November 2013. It is intended to eventually replace the P-3, in service since 1962, and is equipped with the latest sensors and electronics in the US Navy arsenal. The P-8 can even "pack a serious punch," according to aviation analyst Tyler Rogoway.
Exclusive!: P-8 Flies With Shadowy New Radar System Attached http://t.co/4L5Q2Ag4i8

— Tyler Rogoway (@Aviation_Intel) April 14, 2014
The admission comes at a time of renewed tensions over the Spratly Islands, an archipelago of islands and reefs in the South China Sea claimed by China, Malaysia, Brunei, the Philippines, and Vietnam.
Beijing has rejected requests from Washington to halt construction on several of the islands. Chinese Defense Ministry spokesman Col. Yang Yujun told reporters in January that the construction is "legitimate and conducted in accordance with law."
READ MORE:'Biased US won't affect construction': China counters criticism of artificial island project
Earlier this week, the Philippine government announced it would not renew the work visas of 16 Chinese experts working at the national electric utility NGCP when they expire in July. China has a 40 percent stake in the NGCP.
Last week, Chinese Foreign Ministry spokeswoman Hua Chunying told reporters that "third countries should say less and stop stirring up trouble."
Read more: US accused of inciting South China Sea tensions
Speaking in Tokyo on February 13, following a visit to China, Deputy US Secretary of State Anthony Blinken described the conflict over the islands in terms of energy trade and control of sea lanes.
"The true question at the heart of these conflicts is who controls access to Asia's abundant energy resources," Blinken said. "Almost a third of global crude oil and over half of global LNG passes through the South China Sea, making it one of the most important trade routes in the world."
You can share this story on social media: