T-shirt switcheroo: Clinton campaign accused of tricks in Nevada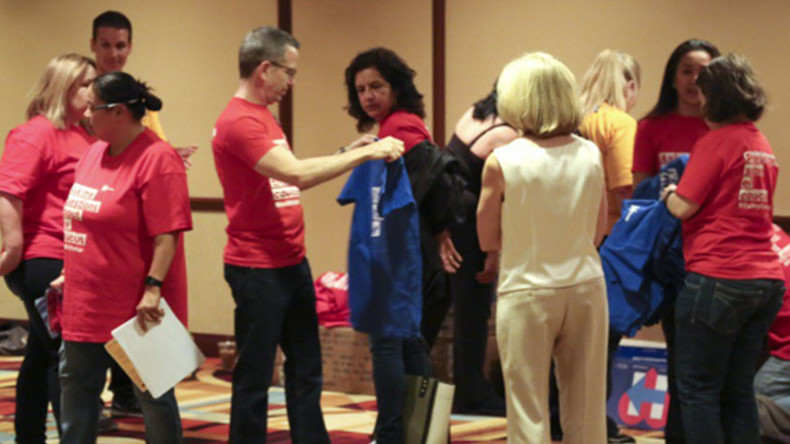 Democratic presidential candidate Hillary Clinton's tight victory in Nevada's caucus Saturday has been marred by criticism of her campaign tactics.
Caught red-handed, or in this case, red-shirted, RoseAnn DeMoro, executive director of National Nurses United (NNU), took a photo of Clinton supporters changing T-shirts in the hope of deceiving voters.
The NNU, who are backing Clinton's main opponent Bernie Sanders - and previously endorsed Ralph Nader in 2000, were campaigning at the caucus wearing red shirts, a color associated with Sanders campaigners.
The photo shows Clinton campaigners changing from blue, a color most associated with the former Secretary of State's campaign, to red T-shirts, which DeMoro believes was deliberately intended to create confusion.
Clinton narrowly edged out Sanders in Nevada 52.6 to 47.3 percent, based on projections. Despite the victory, she failed to secure a two-digit winning margin that would have substantiated her supposed support from the Latino community.
READ MORE: Clinton defeats Sanders in Nevada caucus by thin margin
A video from Saturday's caucus claim to show Clinton supporters getting preferential treatment by entering the caucus without registering.
ABC News confirmed earlier this week Clinton's campaign have been involved in push polling, in which someone claiming to be an independent pollster calls a voter and asks them a series of questions designed to sway their opinion.
Sanders supporters on Reddit have been documenting any suspicious behavior in Nevada on a thread.