'Unreasonable risk of fire': Feds rule hoverboards unsafe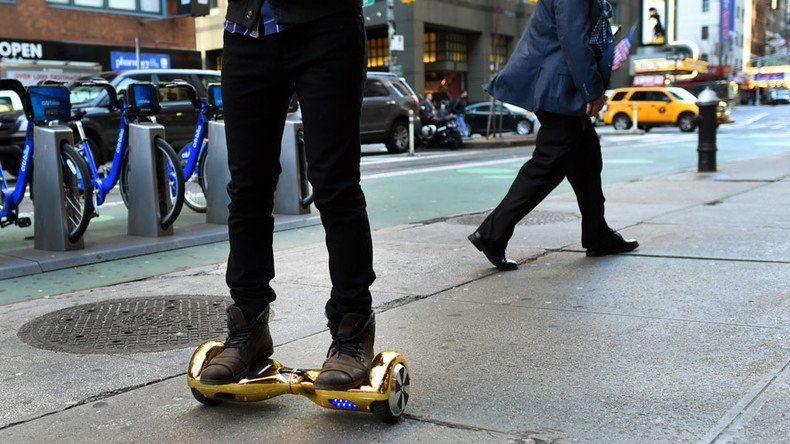 No hoverboard currently on the market can be considered safe, a federal regulator has told manufacturers and retailers following an investigation. Existing hoverboards can be seized and new sales could result in civil or criminal penalties.
Current self-balancing scooters – the official name for hoverboards – and the lithium-ion batteries used to power them, pose undue safety hazards to consumers, the US Consumer Product Safety Commission (CPSC) said in a notice sent on Thursday. The CPSC also issued official guidelines to govern hoverboard safety.
"Self-balancing scooters that do not meet these voluntary safety standards pose an unreasonable risk of fire to consumers," the CPSC wrote in a notice first reported by Mashable. "Consumers risk serious injury or death if their self- balancing scooters ignite and burn."
The CPSC said products that do not meet the safety rules will be considered "defective" and could be confiscated, and violators of the new guidelines could be subject to civil and criminal penalties.
The federal regulator issued the hoverboard notice following a months-long investigation involving "reports, from consumers in 24 states, of 52 self-balancing scooter fires resulting in over $2 million in property damage, including the destruction of two homes and an automobile."
"We believe that many of the reported incidents, and the related unreasonable risk of injuries and deaths associated with fires in these products, would be prevented if all such products were manufactured in compliance with the referenced voluntary safety standards," the federal watchdog wrote.
The notice does not constitute an official recall of products that do not meet safety standards set by UL – the independent firm that conducts safety testing for electronic devices and parts. But it will likely trigger product recalls by manufacturers and sellers.
"It's my expectation that [retailers] will start the process to make any potential recall easier," CPSC chairman Elliot F. Kaye told Mashable.
I'm a liberal guy but the federal government crushing the hoverboard market makes me want to go and occupy a wildlife refuge somewhere

— Tom Gara (@tomgara) February 19, 2016
Early this month, UL began a hoverboard safety certification process. The CPSC notice effectively means that until a product is subject to a UL safety test, it will be considered a safety hazard.
The CSPC conducted its own tests on hoverboard products, according to the report. The decision to issue the notice to the hoverboard industry was made even though none of the products the agency tested caught on fire.
"This is us drawing a line in the sand and a notice for the entire hoverboard community," Kaye said. "From our perspective, a smart retailer will put in place a stop sale to find out if their inventory complies with the UL standard. If they are certain that it doesn't, they should then issue a recall proposal."
As for importers, Kaye said, the CPSC will begin targeting them "when the ships are still on the water."
You can share this story on social media: