Pentagon blames Russia for 'human suffering' in Syria, 'unclear' with proof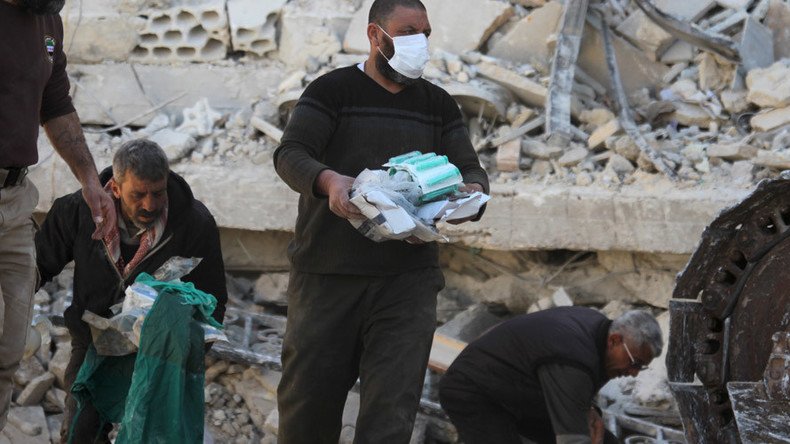 The US command has told journalists gathered at the Pentagon that "brutal dictatorship" is to blame for the human suffering in Syria, claiming the Russian operation has caused further "tremendous damage" – yet offering no proof to back the assertion.
"Let's be clear: the human suffering on the ground [in Syria] is the result of the Assad regime's brutal dictatorship," Operation Inherent Resolve spokesperson Colonel Steven Warren stated in his opening remarks, speaking via video link from Baghdad.
"The Russian intervention has only strengthened his position and worsened the situation there. This week we all saw the reports of continued indiscriminate bombing by Russian and regime forces, and even the use of barrel bombs," Warren said, delivering his professional view on the situation on the ground.
READ MORE: Kremlin denies claims Russian jets bombed Syrian hospital, says reports 'unsubstantiated'
Having also highlighted reports of "hospitals and a school in northern Syria [being] struck," Warren continued his analysis of Moscow's actions in the region, saying that "this reckless disregard for civilian casualties only complicates the situation and prolongs human suffering."
While he did not mention Islamic State (IS, formerly ISIS/ISIL) terrorists on Syrian territory at all, Warren swiftly moved onto an update on the anti-IS efforts by Iraqi authorities with the help of the US-led coalition, before wrapping up his prepared statement.
When asked to clarify if the reference to "Russian bombing" followed by the "reckless actions and damage to hospital" allegations meant that the US command is "associating those things" and directly asked if the Pentagon is "saying that Russians are responsible for that particular attack [on hospital]," Warren stated it was all "unclear."
"What actually happened is that Russian or regime aircraft conducted strikes in those areas; and that those hospitals were hit," Warren said.
"Unclear to us whether it was the Russian aircraft, Syrian aircraft or a Russian missile or a Syrian missile, that part at this point is a little bit unclear to us," he said, adding that "it is important to note that there were no coalition strikes in that area and in fact there have been no coalition strikes in Aleppo this year."
"There has been no lessening in the intensity of Russian and the regime air campaign. We saw continual use of the barrel bombs, they've caused tremendous damage and most of that damage indiscriminate," the US military spokesperson told the media.
READ MORE: Saudi jets to fly missions in Syria from Turkish base
Journalists once again had to clarify whether it had been "Russians dropping barrel bombs," to which Warren said "the barrel bombs came out of the back of Syrian helicopters."
Warren also noted that there has been "no diminishing of [Moscow's] campaign" ahead of the upcoming agreed cessation of hostilities in the region – once again failing to mention that the ceasefire agreement does not cover anti-terror operations against IS and Al-Nusra and apparently implying that Russian airstrikes are only targeting the so-called moderate opposition. Warren however hurried on to add one should not expect to "see any notable preparation" of the Russian aircraft for a ceasefire.
On Monday, the UN reported that nearly 50 people had been killed in "missile attacks on at least five medical facilities and two schools" in Syria's northern provinces of Aleppo and Idlib. While the Syrian Army is engaging terrorists in fierce battles in these areas, allegations have been thrown at Russia blaming it for the attacks.
"We vehemently reject such allegations, particularly because those making the statements have always proven to be unable to deliver any proof of their unfounded accusations," Kremlin spokesman Dmitry Peskov has said.

READ MORE: Russia has no ship in Caspian Sea that could hit Syrian hospital with ballistic missile – MoD
While Turkey has joined the blame game, with its PM Ahmet Davutoglu claiming that Russia had launched a ballistic missile from the Caspian Sea and hit a medical facility in the city of Idlib in northwestern Syria – which Russia's Defense Ministry denied, the Syrian ambassador to Russia made a statement citing "intelligence information," saying that it were the US-coalition warplanes that had struck a hospital in Syria.
You can share this story on social media: