Kremlin denies claims Russian jets bombed Syrian hospital, says reports 'unsubstantiated'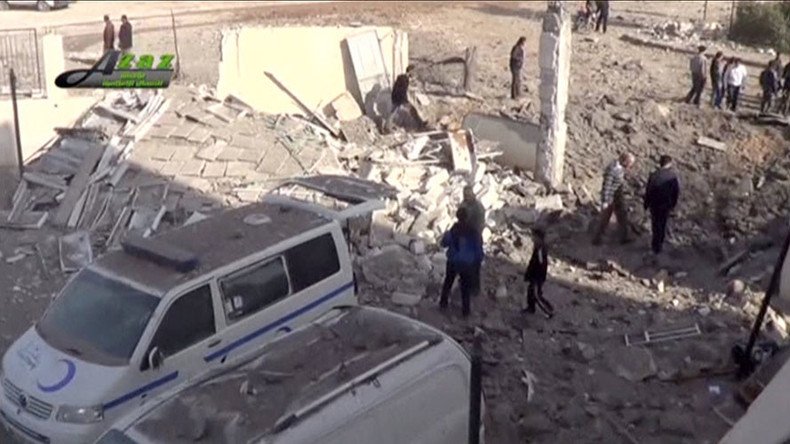 The spokesman for the Russian president has met allegations that the Russian Air Force delivered an airstrike on a Syrian hospital with a flat denial, urging detractors to provide proof of the "empty" and "unfounded" accusations.
"We vehemently reject such allegations, particularly because those making those statements have always proven to be unable to deliver any proof of their unfounded accusations," Kremlin spokesman Dmitry Peskov said.
The UN Secretary General's office reported Monday that nearly 50 people had been killed in "missile attacks on at least five medical facilities and two schools" in Syria's northern provinces of Aleppo and Idlib, where the Syrian Army is engaging jihadist militants in fierce battles.
Turkey, which is shelling Kurdish YPG positions in the north of Syria for the fourth day running, also blamed Russia for airstrikes on a school and a hospital in the city of Azaz, going as far as to say that a ballistic missile had been fired from the Caspian Sea for the attack.
When asked to comment on the alleged Russian bombing of the hospital in Idlib province, Peskov urged people to check the original source of the information, namely the Syrian government.
"For us the original source is the statement of the Syrian authorities," the spokesman said.
Peskov was referring to the statement made by the Syrian ambassador to Russia, who cited "intelligence information" that showed US warplanes had struck the hospital.
"Concerning the hospital which was destroyed, in actual fact it was destroyed by the American Air Force. The Russian Air Force has nothing to do it with," Ambassador Riad Haddad told Rossiya 24 TV channel.
You can share this story on social media: