Growing up Tesla: Toy Model S to hit playgrounds
Published time: 17 Feb, 2016 20:25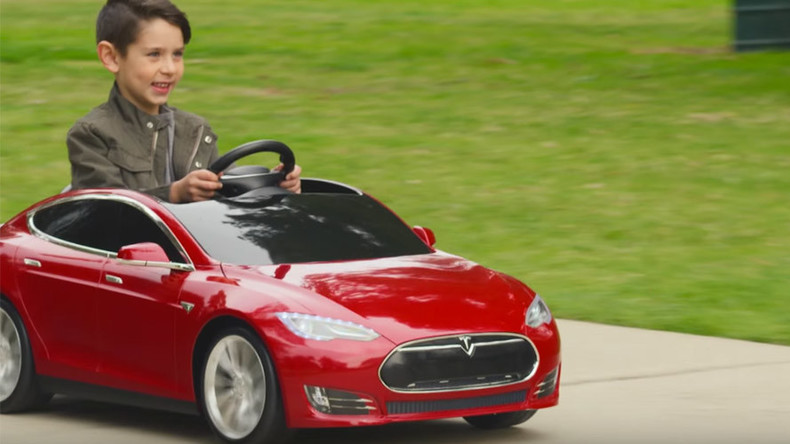 All those who dreamed of owning a Tesla, but could not spare the $70,000 for the electric car, may soon be able to afford one for their kids. Tesla is teaming up with Radio Flyer to go after the coveted toddler demographic.
The Chicago-based Radio Flyer intends to start shipping a whole new kind of little red wagon come May. A miniaturized Model S will set you back $500 for a basic version, with working headlights, a sound system and a "spacious interior" – as long as the driver is under 81 pounds (36 kilograms). It is intended for children between the ages of three and eight.
According to AutoBlog, the playground Model S will come in three authentic Tesla colors: Midnight Silver Metallic, Deep Blue Metallic, and – of course – Red Multi-Coat.
Just like with the actual cars, the toy model will have add-ons and options. The base model has a 140 Wh lithium-ion battery, but for another $50, the proud parents can go for "50 percent more playtime" and get a more powerful 190 Wh version. An extra $15 will upgrade the car with "Silver Turbine Wheels." A fully tricked-out toy Tesla will run $804, before taxes.
Fans of accessories can look forward to Tesla-branded license plates ($15), a parking sign ($25) and an indoor car cover ($50), making the mini-Model S look just like the grown-up kind.
Parental settings can cap the maximum speed of the toy Tesla at either 3 mph (4.8 km/h) or twice that, if they trust their toddlers to drive responsibly.
AutoBlog's Sebastian Blanco calls the toy model "the cutest Tesla ever," and notes the only cheaper option is a die-cast model for your shelf.
Tesla founder Elon Musk has apparently tried out the toy model, and called it "really quite fun."
The mini-Tesla will face some playground competition from Actev Motors' Arrow Smart-Kart. The go-kart for the more grownup set (ages 5-9) will be capable of reaching 12 miles per hour, using two 250-Watt electric motors, and comes with built-in Wi-Fi and an Android control app.