Move over Santa: 3D printer lets kids make their own toys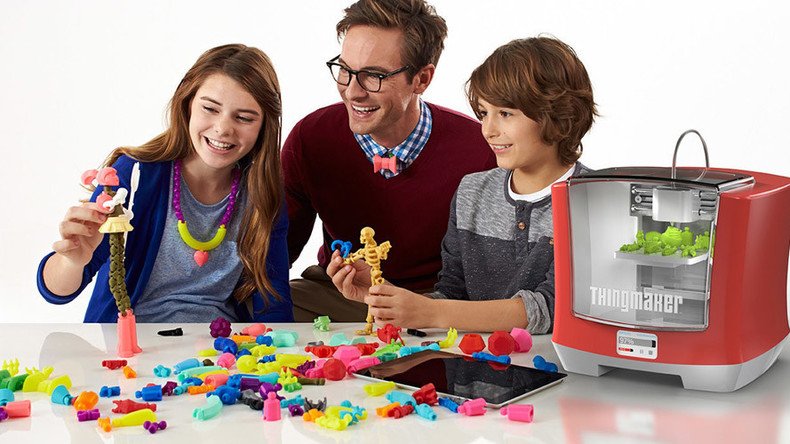 Will toy stores go the same way as video rental stores? That question might sound less silly now that Mattel revealed a futuristic 3D printer marketed to kids that can allow them to make their own toys at home.
Unveiled by the toy giant Mattel at New York's Toy Fair over the weekend, the 'ThingMaker' is a high-tech re-envisioning of Creepy Crawlers, a toy made by the company in the 1960s that allowed children to create their own toy bugs using a liquid plastic substance and a small oven.
"In today's digital age, it's more important to than ever for families to transcend the digital world and make their ideas real," Aslan Appleman, Mattel senior director, said in a statement. "ThingMaker pushes the boundaries of imaginative play, giving families countless ways to customize their toys and let their creativity run wild. We're thrilled to work with 3D design experts at Autodesk to bring this one-of-a-kind experience to life."
The science-fiction toy will cost $299.99 and will work with an app for iOS and Android to let users make their own figurine designs and send them wirelessly to the printer to be manufactured on the spot. The app, called ThingMaker Design, will come with pre-loaded toy templates as well as hundreds of modular parts that kids can use to construct their new toys with. The device is already available for pre-order on Amazon.
Mattel's printer will rely on spinning filaments of hot Polylactic Acid (PLA), the standard method that most 3D printers use. The company says that the printer will probably come to come with at least one spool of PLA, and that customers will be able to use industry-standard spools sold by third parties.
Rather than creating the toys whole, the ThingMaker will bring the parts to life and allow kids to snap them together themselves.
"We think it's pretty magical to watch these things being printed but after a while you don't want to sit there for hours," Appleman told USA Today. "For bigger prints, click print before [you] go to bed and wake up to a brand new toy."
The 3D printer is meant for children aged 13 and up, reports USA Today, and has a few safety features to keep kids safe. The ThingMaker's doors lock automatically when it's in use, and the printing elements retract when idle, so there's no risk of kids burning themselves.
READ MORE: 3D printing may be cool – but also toxic, study warns
The ThingMaker is set to be released this fall, and it's already available for pre-order on Amazon.
You can share this story on social media: