3D printing may be cool – but also toxic, study warns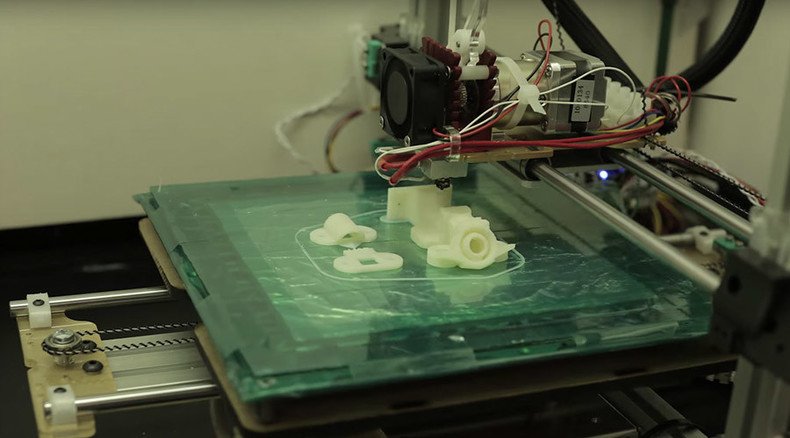 Relatively cheap but useful 3D printing can produce almost everything from toys to implants. However, new research shows it may have a dark side, as some materials used in the process have been found to be toxic to some fish.
The Environmental Science and Technology Letters journal has published the results of tests carried out by a group of researchers from the University of California, Riverside, under the title "Assessing and Reducing the Toxicity of 3D-Printed Parts."
READ MORE: Patient gets 3D-printed metal ribs for the first time ever
Interest in the safety of materials used in 3D printing was sparked in 2014, when Shirin Oskui, a graduate student at the University of California, Riverside, used a 3D printed part in her study of zebrafish embryos that subsequently died.
The accidental discovery led to a full study led by William Grover, a bioengineer and assistant professor at UC Riverside, in which 2.5 cm-diameter plastic disks that had been 3D-printed by two types of machines were placed in petri dishes containing zebrafish embryos.
The team tested the materials used by two of the most popular 3D printers: melted plastic used by Dimension Elite by Stratasys, and liquid resin used by Form 1+ by Formlabs.
The survival and hatch rates among the embryos saw negative effects in both samples. The embryos exposed to parts from the plastic-melting printer had a slightly lower average survival rate compared to the control embryos.
However, more than half the embryos exposed to the liquid-resin disks died within three days and almost all had perished after a full week. The very few that did survive showed signs of developmental abnormalities after hatching.
"We were pretty surprised [by] this and thought other people should know about it," Grover said, according to Newsweek.
READ MORE: Breakthrough in 3D-printing? MIT unveils device molding 10 materials at once
However, the researchers have also established that exposing 3D-printed parts made from liquid resin to ultraviolet light reduces their level of toxicity significantly.
The next step in the research will be to study the components of 3D printing materials and try to estimate how harmful they could be to humans.
"Many people, including myself, are excited about 3D printing. But, we really need to take a step back and ask how safe are these materials," Grover concluded, calling for authorities to reconsider present regulations on 3D materials and work out new strategies for their safe disposal.
For now, the researchers advise disposing of materials used in 3D printing at hazardous waste centers.
You can share this story on social media: