Secretly filmed video shows charter school teacher verbally abusing 1st grader
Published time: 14 Feb, 2016 23:45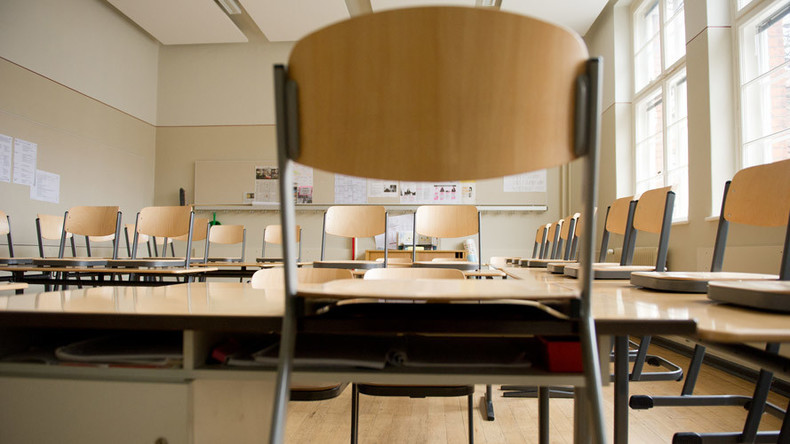 Disturbing footage of a teacher at a Success Academy charter school in New York chastising a young child for answering a math question incorrectly has raised further questions concerning such educational institutes.
In the video, Charlotte Dial, a teacher at the organization's charter school in Cobble Hill, Brooklyn, can be heard venting her frustration at a first grade child who is made to sit away from the other students for getting confused over how she had solved a math puzzle.
Angrily ripping up the young pupil's paper, Dial can be heard telling the child to "go to the calm-down chair and sit."
"There's nothing that infuriates me more than when you don't do what's on your paper," Dial says angrily.
"You're confusing everybody," she says to child, who is sitting away from the circle of students, before adding that she is "very upset and very disappointed."
The video was secretly filmed in 2014 by an assistant teacher who wanted to lift the lid on the atmosphere that can be found in such schools and the harsh treatment that children endure in them on a daily basis. The New York Times publishing the video on Friday.
Joseph P. McDonald, a professor of teaching and learning at New York University, told the newspaper he would class Dial's behavior as "abusive teaching."
In 2015, Dial was promoted to "model teacher," meaning she would help train other teachers in the Success Academy network in New York, most of which are established in black, Hispanic, or poor areas.
While the school did suspend Dial, she was reinstated a week later, with a spokesperson for the school describing the video as an "anomaly," adding that it did not reflect the general school experience.
This was echoed by Success Academy CEO Eva Moskowitz, a former City Council member, who branded the critics of the group as "haters".
"We must not allow the haters to bully us or stop us from re-imagining public education," Moskowitz wrote in a note sent to all Success Academy staff.
This is only the latest in a string of criticisms leveled at Success Academy and comes less than a month after thirteen parents filed a federal civil rights complaint against the network.
The lawsuit was lodged after it emerged that one Academy principal had been keeping a "got to go" list of unruly and special needs students he wanted removed from the school.
It was reported in January that the State University Charter School Institute, which licenses charter schools in New York, is to investigate the disciplinary and suspension policies of Success Academy.
READ MORE: Teach for America applicant numbers down for second year in a row
In 2015, 35 percent of New York City children tested as proficient in math, whereas 93 percent of Success Academy students did. Similarly, 68 percent of Academy students tested as proficient in reading, compared to 30 percent citywide.
Former teachers of Success Academy have spoken about how much pressure is put on the children to perform at a high level, saying they are often punished or belittled in front of their classmates if they don't.
"There has to be misery felt for the kids who are not doing what is expected of them," a Success Academy employee said in 2012. Moskowitz defended the statement.
"That is part of our culture — not having kids getting away with just not trying," she said.
Numerous students have reportedly wet themselves while doing practice tests, either because they felt pressured to complete the test first or because their teacher wouldn't let them use the toilet.
Like other charter schools, a lot of the teachers are fresh out of college and not unionized. They usually endure 11-hour work days.
Facing enormous pressure to maintain high grades has a knock-on effect for teacher turnover, with three schools in the 2013/2014 academic year seeing over half of their teachers from the previous year moving on.
The network has argued that the rate is closer to 17 per cent, however, although this remains over 10% higher than the city's public school system average of 6.1 per cent.
A total of 34 public charter schools around New York are part of the Success Academy network, which received nearly $72 million in public funds and $22 million in donations in 2013.
A report released in April of 2015 found that over $1.4 billion may have been lost in the US' charter school sector through waste, fraud, and abuse.
"The vast majority of the fraud perpetrated by charter officials will go undetected because the federal government, the states, and local charter authorizers lack the oversight necessary to detect the fraud," the report reads.