Hush-hush: Obama holds secret meeting with Hollywood donors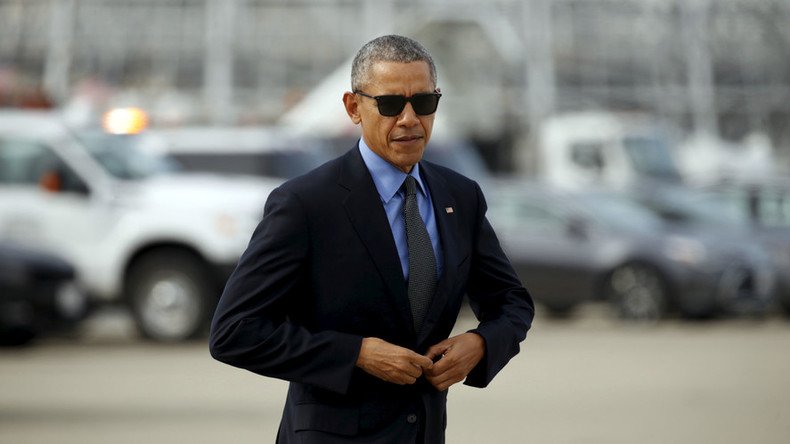 US President Barack Obama has again held a late-night, off-the-books dinner with three of Hollywood's elite, who also happen to be big Democratic Party donors, and his administration won't tell the press what was discussed.
Attending the private dinner with Obama on Thursday were Jeffrey Katzenberg, DreamWorks CEO, Alan Horn, chairman of Walt Disney Studios, and actor Will Smith, Deadline Hollywood reports.
Obama was in Los Angeles for a number of lucrative fundraisers and television appearances, in what is his 21st visit to LA since taking office in 2009 seeking donations for the Democratic Party.
Tickets to at least two different fundraisers were reported to cost up to $33,400 each but neither Katzenberg, Horn or Smith attended these, instead meeting Obama at his hotel after the fundraisers.
This meeting was not disclosed to the media in advance, however, and White House officials have refused to comment on what exactly was discussed between the four.
"I am going to protect the president's ability to have private conversations, whether that's with lawmakers, whether that's with candidates for president or whether that's with Hollywood artists," Eric Schultz, White House deputy press secretary, told the media traveling with Obama on his six-day trip to California.
Katzenberg is seen as a major donor to Obama, donating $3 million to the pro-Obama super-PAC Priorities USA Action during the 2012 election and so far has donated $1 million to the 2016 cycle, which is pro-Clinton.
He has frequently held private meetings with Obama when in LA, including last summer when the two dined with director Steven Spielberg, who also donated $1 million to the same super-PAC in 2012 and again in 2016.
The media only learned of the meeting after it had taken place.
The same happened in 2013 when Obama and Katzenberg held a private meeting at Obama's hotel after he filmed a television appearance, with the White House only confirming the meeting the following day.
Will Smith has also been known to donate sizeable sums of money to Obama's campaigns, having hosted a fundraiser at his home in 2012 which raised at least $500,000.
You can share this story on social media: