Snyder will testify to Congress over Flint water crisis, releases 20,000 emails
Published time: 13 Feb, 2016 03:04
Edited time: 28 Feb, 2016 23:49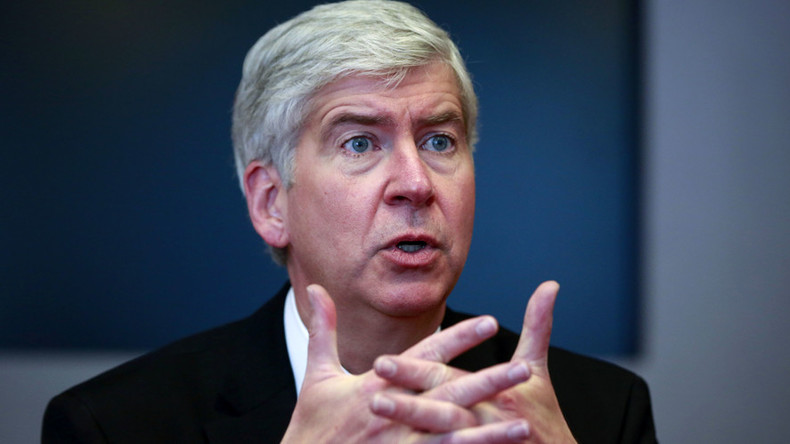 Michigan Governor Rick Snyder (R) invited himself to speak before the House Oversight Committee concerning the Flint water crisis amidst the release of over 20,000 emails from various state agencies involved in the failure to prevent lead contamination.
A Thursday phone call to congressional committee chairman Representative Jason Chaffetz (R-Utah) led to Governor Snyder being confirmed on Friday for a future hearing. He will sit alongside US Environmental Protection Agency Administrator Gina McCarthy, though no date has yet been set.
"The people of Flint have suffered because they were failed by all levels of government, and so it is understandable that there are questions at all levels of government," Snyder said in a press release. He also expressed the intention to help other cities facing similar risks of water poisoning.
The House Oversight Committee's ranking Democratic member, Representative Elijah Cummings (Maryland), released a statement of his own in response.
"Contrary to Governor Snyder's recent claim that he requested this 'opportunity to testify,' the reality is that he is finally bowing to mounting public pressure to answer questions before Congress about the central and critical role his administration played in this man-made disaster," Cummings wrote.
In 2014, the water source for 100,000 residents in Flint was switched to the Flint River without being treated with chemicals needed to combat the corrosion of lead piping. The result was an alarming rise in the blood-lead-levels in children, which can result in permanent brain damage.
The committee last gathered to hear testimony on the crisis on February 3, but Snyder had been neither asked, nor called upon to participate. The new director of the Michigan Department of Environmental Quality (DEQ), Keith Creagh, has been the highest ranking state official to testify thus far. He was the replacement for Dan Wyant, who resigned in December over the department's negligence in controlling corrosion.
Some of the questions Snyder could face in his eventual congressional testimony may be prompted by the emails released on Friday, which were written both before and after water issue became a crisis by the employees of six state departments responsible for handling the problem.
One email sent on September 30, a week before Snyder acknowledged the dangerously high lead levels and forced Flint to stop using the Flint River as the source of its water supply, shows DEQ's Office of Drinking Water and Municipal Assistance field operations chief Richard Benzie commending seven employees for the "effort you have made to respond to this issue."
"It is noticed and appreciated. In recognition for your performance, I have arranged for you to receive a 2 percent merit increase starting tomorrow," the email read.
In fact, the raise had been scheduled long before as a cost-of-living adjustment, which all Michigan state workers receive, The Detroit News reported. The tone, however, is likely to be picked up on by some members of the congressional committee.
In another released email from October 14, 2014, EPA Michigan Program Manager Jennifer Crooks appears to make light of the city residents' grievances.
"Yep. Another complaint about our favorite water supply :)," Crooks said, utilizing a smiley face in an email forwarded to DEQ officials.
Another Crooks email from February 9, 2015 boasted of "developing a thick skin" as a result of fielding angry complaints from constituents.
"Let me tell you, this Flint situation is a nasty issue — I've had people call me 4 letter words over the phone, yell at me and call me a crook," she wrote. "I'm developing a thick skin."
Not all of the more than 20,000 released emails made light of the situation, however.
One sent on April 17, 2014 by laboratory and water quality supervisor Mike Glasgow to DEQ officials warned against moving ahead with the switch to Flint River water too hastily, according to WXMI news.
Glasgow asked for more time to get his staff and plans prepared, expressly saying he would not approve any water distribution from the Flint plant without a delay of a couple weeks. However, the decision wasn't ultimately up to him, and he knew it, writing that his superiors "seem to have their own agenda."
On April 25, 2014, Flint ended its relationship with its Detroit water supplier and switched to the polluted Flint River.