Can't catch a break: Flint issues boil water advisory over bacteria fears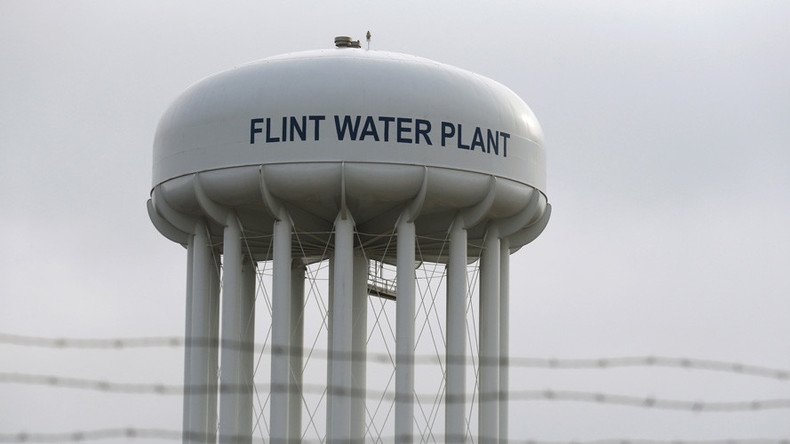 The city of Flint, Michigan advised many residents to boil their water, after a water main break stoked fears of bacterial contamination. The city is struggling with a long-running crisis of lead pollution in the municipal water supply.
After a drop in the city's water supply, Flint authorities released an advisory Tuesday, warning residents that "bacterial contamination may have occurred." Corrective measures are currently underway, the city of Flint said in a statement.
READ MORE: Flint emergency manager knew about Legionnaires' outbreak 11 months ago – report
While bacteria are common in water supplies and are generally not harmful, city officials are warning residents with water filters to boil tap water for one minute and then let it cool before use. Residents not using filters are asked to flush the water for seven minutes before collecting any to boil, to make sure there is no loose sediment trapped in the water.
The boil advisory does not apply only to drinking water. Flint authorities said that residents should take the same precautions when using water for making ice, washing dishes, preparing food and brushing teeth, according to the release.
Such precautionary measures are recommended whenever a water system loses pressure for a significant amount of time, the city said.
The Flint water department "is working to get pressure restored, and water staff will be taking other remedial actions such as flushing and collecting bacteriological samples from around the system," the statement said. "The samples will be taken to determine that the water quality meets the state drinking water standards."
READ MORE: 'Not some Third World country': Anger and blame at Flint water hearing in Congress
The advisory was made amid a much larger water crisis, involving lead contamination that has afflicted the city since April 2014, when Flint switched its water source from Detroit to the much closer Flint River as a cost-saving measure. Corrosive compounds in Flint River water resulted in lead from the city's pipes to leak into the water supply. Lead in tap water was found to have reached dangerously high levels, and tests found that many children had lead in their bloodstream.
While Flint returned to Detroit water in October 2015, aging municipal pipes continued to contaminate the city's water supply with lead. The mayor has asked Michigan Governor Rick Snyder to help the city obtain the $55 million needed to replace the pipes. President Barack Obama declared an emergency in Flint on January 16, 2016.
On Wednesday, the Republican governor laid out a $360 million plan to address Michigan's water infrastructure needs as part of his annual budget presentation to the state legislature, with $195 million being reserved for Flint in particular.
Michigan Senate Majority Leader Arlan Meekhof said "there's a good argument to be made" for the state to foot the bill, because the government failed the city's water customers "at every level," according to AP.
You can share this story on social media: