Flint emergency manager knew about Legionnaires' outbreak 11 months ago – report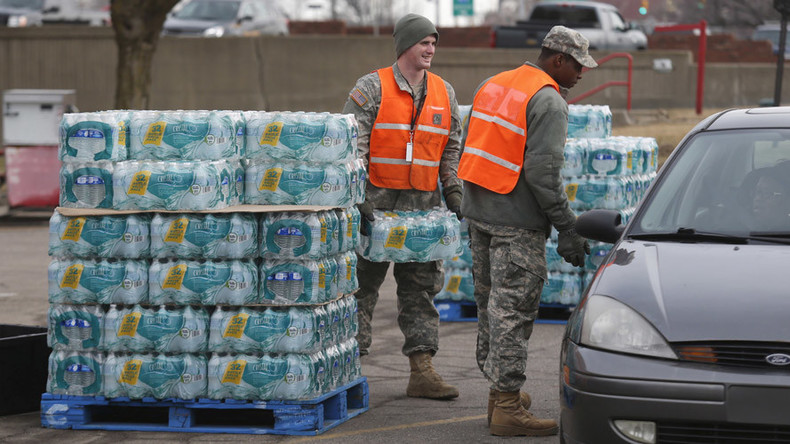 An email sent to Flint's emergency manager, an appointee of Michigan Governor Rick Snyder, warned about the deadly Legionnaires' disease outbreak 11 months ago, according to The Flint Journal.
The email, revealed on Tuesday, was sent to Flint's emergency manager Jerry Ambrose from the Genesee County Health Department's environmental health supervisor. It was obtained by the Flint Journal from the county through a Freedom of Information Act request.
The news outlet said it was not clear what Ambrose had done in response to the crisis, or whether he had reported the information to anyone else in state government.
The news outlet did report, however, that two weeks after being told about the Legionnaires outbreak, Ambrose called Flint's water "safe by all…standards" and criticized the Flint City Council for trying to end the use of the Flint River as a water source.
"It is incomprehensible to me that (seven) members of the Flint City Council would want to send more than $12 million a year to the system serving Southeast Michigan, even if Flint rate payers could afford it. (Lake Huron) water from Detroit is no safer than water from Flint," Ambrose said at the time, according to The Journal.
Ambrose was Flint's emergency manager from January 2012 to April 2015. During the Legionnaires' outbreak, 10 people died and 87 fell sick.
In another email revelation, the Associated Press reported that Howard Croft, the former public works director, had written that anti-corrosive treatments weren't added to the Flint River water because of concerns about bacteria. In the September 3 email, Croft said lead treatments had been discussed with state officials at the Department of Environmental Quality and an engineering firm as the city's water plant was being readied to treat river water.
Croft said that it had been decided to wait for more data before choosing a lead-control method, as many chemicals involved phosphates that can encourage the growth of bacteria. However, he did not say where that decision had come from.
The Detroit News reported that on Wednesday Michigan's governor is expected to propose an additional $195 million in new aid to help deal with Flint's contaminated water problem. Of that, $25 million will potentially go towards replacing lead-contaminated pipes, according to the AP.
The legislature has already approved $37 million for Flint. If approved by lawmakers, the state will have allocated $232 million toward the crisis for this fiscal year and next.
In Snyder's upcoming $55 billion state budget presentation, spokesman Dave Murray said the governor will also call for a separate $165 million to fund infrastructure needs across the state, including upgrades to old water pipes, natural gas lines, and wastewater treatment facilities.
Meanwhile, Michigan's top law enforcement official said on Tuesday that the governor's office should no longer be exempt from public records requests. The state has protected the governor and his office from Freedom of Information Act requests.
Republican Attorney General Bill Schuette told the AP that "the reset button has been pushed" with the Flint crisis, and he is hopeful lawmakers will broaden the law.
Governor Snyder has already released his personal emails from 2014 and 2015 related to the water emergency, but not correspondence among his staff. He has said he wants to discuss bills that would subject his office and their offices to Michigan's Freedom of Information Act.
You can share this story on social media: