16 since 2007: Another shoe containing human foot washes up along Pacific Northwest coast
Published time: 12 Feb, 2016 20:53
Edited time: 13 Feb, 2016 00:04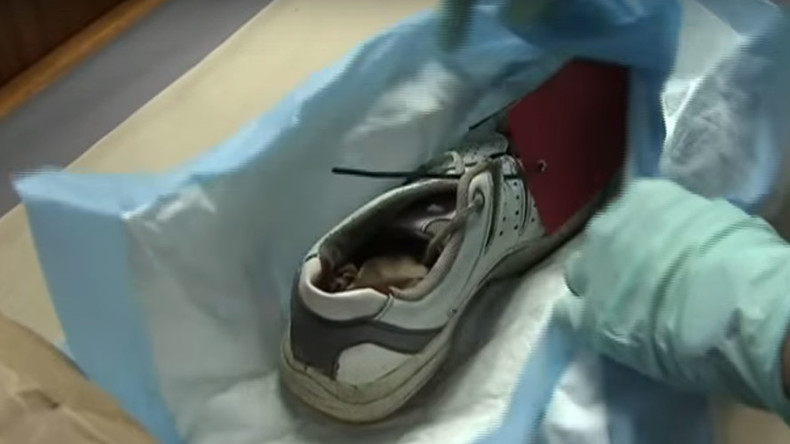 Nearly a week ago, a severed foot inside a shoe was found on the west coast of Vancouver Island in British Columbia, Canada, making a total of at least 16 such grisly discoveries along the Pacific Northwest shoreline since 2007.
The latest was found by a family walking along the beach at Vancouver Island, according to CBC. Charlotte Stephens said her husband came across the foot, the 13th washed up in British Columbia, during a stroll along Botanical Beach.
"He picked it up and brought it out on to the beach, and we had a look at it for about five minutes and we thought, it almost looks like there is an actual foot bone in it," she said.
The British Columbia Coroners Service said the foot belonged to a human and law enforcement is trying to determine its source. Regional coroner Matt Brown said that the brand of shoe on the foot had not been available until about March of 2013.
"So I think it's fair to say we are looking for someone gone missing from March 2013 and December 2015," he said.
The severed foot is the 16th to be discovered on the shores of British Columbia or Washington state since 2007, according to the Washington Post, which cited various reports of such encounters. Most of them have been right feet, it has been reported, while all shoes were some kind of running or hiking footwear.
While the ultimate explanation is unknown – theories range from organized crime, human trafficking or other foul play, to suicides or a plane crash – some experts say the severed feet are the result of the bodies being under water for long periods of time, in which case extremities will fall off first.
Prolonged exposure to water has a certain effect on a human body, wrote Spenser Davis for the Pacific Standard. As it "is subjected to the push and pull of its environment, it basically falls apart in a fairly consistent pattern; the bones of the hands and feet are the first to go," Davis wrote, citing a study that tested bodies recovered from the Puget Sound in Seattle.
Some of the 16 feet have been identified. Two of the feet were found to have come from people with mental illnesses, and three were from people who investigators believe died from natural causes. Foul play isn't suspected in any of the cases, but it hasn't been ruled out either.
"There are so many coincidences taking place, I don't think you can write it off," forensics consultant and former Toronto Police detective Mark Mendelson told the Daily Beast in 2011, when 11 feet had already washed up near British Columbia. "Everybody who jumps off a bridge is wearing runners? It's bizarre. The common denominators are such that you've got to wonder. Until you can show me something pathologically concrete that this is a natural separation of that foot from a body, then I'm saying you've got to think dirty."
The directional patterns of the region's ocean currents are part of the explanation as to why the finds are consistently made in roughly the same area.
"There's a lot of recirculation in the region; we're working here with a semi-enclosed basin," Richard Thompson, a physical oceanographer with the federal Institute of Ocean Sciences on Vancouver Island, told the Daily Beast. "Fraser River, False Creek, Burrard Inlet—all those regions around there are somewhat semi-enclosed. The tidal currents and the winds can keep things that are floating recirculating in the system. They don't necessarily get rapidly flushed out... False Creek is really a backwater."
Others say the number of feet found in the same region can be attributed to the Vicious Cycle theory, in which the increasing media attention that comes with each discovered foot heightens awareness further, resulting in more active searches and more found feet, thus reinforcing the belief that there must be a pattern behind the phenomenon.
"It is creepy. I guess that's the fascination," Thompson said.