Piece of Amelia Earhart's plane? Patch may solve mystery of first woman's solo flight across globe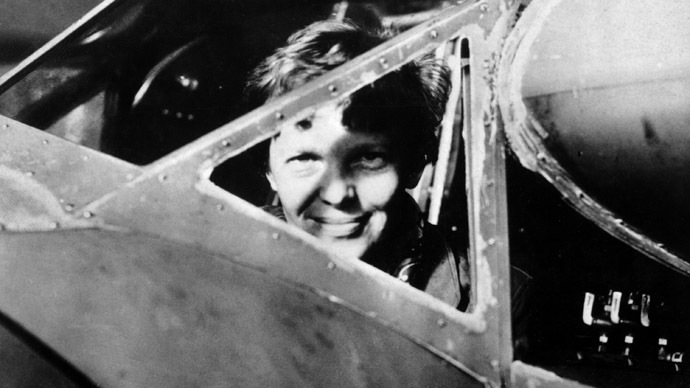 A piece of aluminum, thought to be from the plane of aviation pioneer Amelia Earhart – the first woman to fly solo across the Atlantic Ocean – is almost certainly hers, say experts. The piece was found decades ago, in 1991, on a Pacific island.
The International Group for Historic Aircraft Recovery (TIGHAR) has claimed that the scrap does belong to Amelia Earhart's lost plane, lending weight to the generally accepted idea that her plane crashed during her 1937 attempt to circumnavigate the globe.
"We don't understand how that patch got busted out of (the plane) and ended up on the island where we found it, but we have the patch, we have a piece of Earhart's aircraft," TIGHAR executive director Ric Gillespie told Discovery News.
A fragment of Amelia Earhart's lost aircraft has been identified >> http://t.co/HxcLqldjJc

— Discovery (@Discovery) October 29, 2014
Nikimaroro is an uninhabited atoll in the Pacific, where it is thought that the doomed American pilot was forced to make an emergency landing. It was here that the piece of metal was discovered in 1991. It was thought to have been affixed to the plane in systematic repairs during an eight day stay in Miami.
"The Miami Patch was an expedient field repair," Gillespie said. He added that the piece seems to correspond with the structure and design of Earhart's plane.
"Its complex fingerprint of dimensions, proportions, materials and rivet patterns was as unique to Earhart's Electra as a fingerprint is to an individual," he said.
Earhart had been flying a twin-engine Lockheed model 10 'Electra' in the attempt. TIGHAR has been seeking to lend weight to their theory that the plane did in fact make an emergency landing rather than crash into the ocean when it run out of fuel, as historians generally believe.
"The island is surrounded by a flat reef, at low tide it looks like a parking lot," Gillespie said, asserting his certainty that a smooth landing was executed and distress signals sent until the emergency radio gave out.
The group is scheduling a trip to the island in 2015 to attempt to locate the remainder of the plane.